So why just a short trip
Well due to a couple of factors we have had to postpone our big trip. This whole pandemic thing has messed us around and now that the state borders are open again we have got to the time of year when it would be a bad idea weather wise to set off.
So what to do ? We're both sick and tired of just staying at home apart from the odd weekend away. We have relatives in NSW that we haven't seen for a while so a bit of a trip to see them seems like a good idea. The spreadsheet for the trip is  here and here is the map.
The planning
We have two bunches of relatives that we want to visit. One in Albury NSW and the other in Murrurundi in NSW.
After our last trip for a few days in Sea Lake, VIC, we have decided that any driving day should be less than 400km on good roads. Doing in excess of 500km in a day is just too long. Boredom sets in and with that comes a marked reduction in driving performance. A long day also means that when we arrive we need to hurriedly get set up and cook dinner without time for a slower setup and a bit of a relax before starting the cooking thing.
So bearing that in mind a route was planned as outlined in the spreadsheet. Feel free to grab a copy of the spreadsheet to adapt for your own use, by the way. We'll only be spending single nights anywhere apart from Albury and Murrurundi where we'll be spending as many nights as we want.
It now appears that the weather is again working against us. We were going to leave on 27th March 2021 but it now looks like we'll need to delay things by a week or so due to the weather. While we know that the camper is weather proof, sitting in the camper full time is just no fun – we like to at least be able to sit outside and watch the world go by.
Here's what the Bureau of Meteorology is predicting.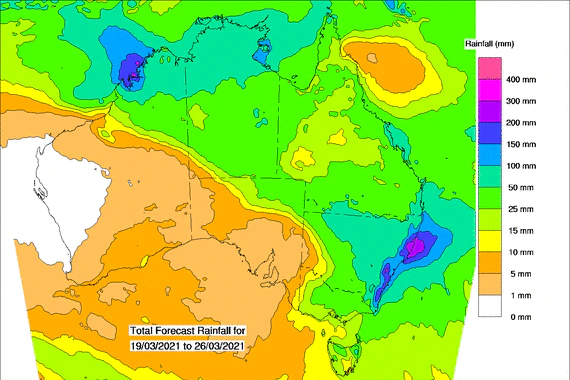 Given that we think a wise course of action is to delay the trip.
So that's it, we're all planned and ready to go. The day before leaving we'll do some shopping, fuel up, make the bed in the camper which is a major pain, load up the car and camper, hitch up and be ready to shoot through early the next morning. All we'll have to do is have breakfast and coffee and do a few breakfast dishes, lock the door on our way out and go.
The actual trip
The first day of the trip was to the Bombala Caravan Park. Nice and uneventful. We didn't put the annex up as it's a bit of a bear and just no worth it for one night. Because we left home a bit later than ideal we didn't get there until about 4.00pm so we had a bit of a sit around and a glass of wine and cooked dinner. A good first day was had.
Next day we were off to the Cowra Showgrounds. we've not camped in a showgrounds before so this was a new experience for us. The facilities were good and so was the sunset – here's a couple of pics.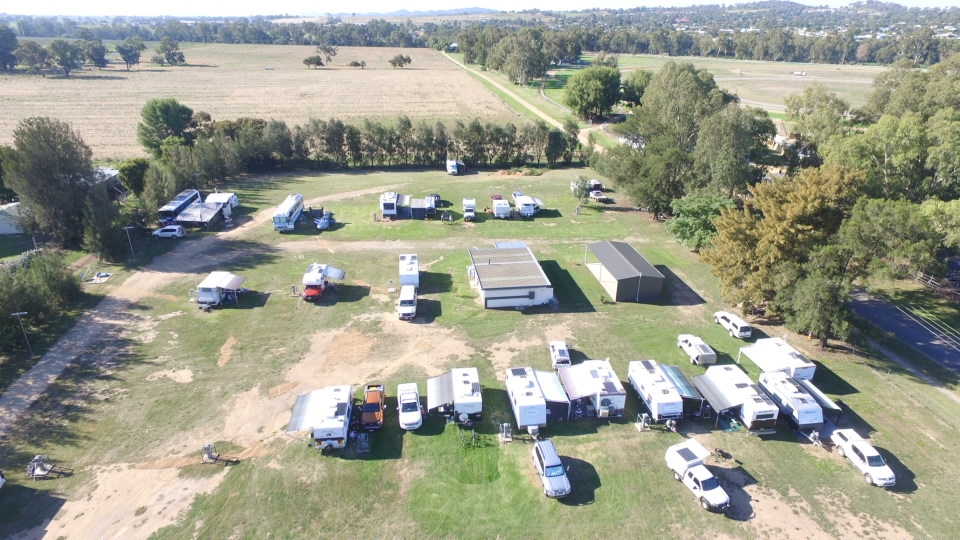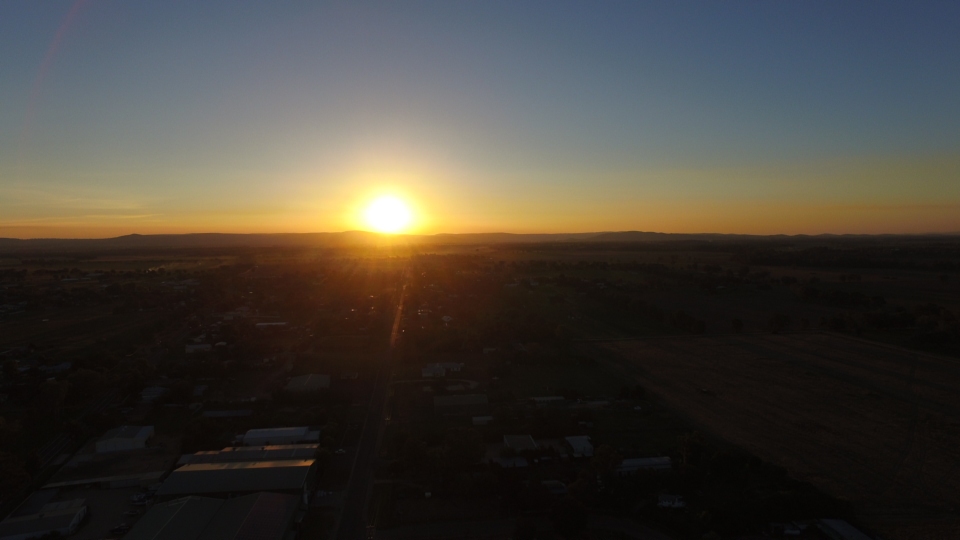 We followed the same formula as Bombala – no annex, a couple of glasses of wine, dinner and watch a bit of TV before bed. Yes, we take a TV and antenna with us. The TV is a smaa-ish Kogan 12V affair and the antenna is an amplified, polarisation indifferent affair from Jaycar which works very well – especially in areas with a marginal signal.
Next stop Mudgee in NSW. There we met up with one of my cousins who I had never seen before. He came to the Showgrounds with a bottle of very nice wine which we duly consumed while having a good old chat. This fitted in nicely with the purpose of the trip which was to catch up with family who we haven't seen for a while. It was a beautiful day and a good time was had by all. Here's a pic of the showgrounds.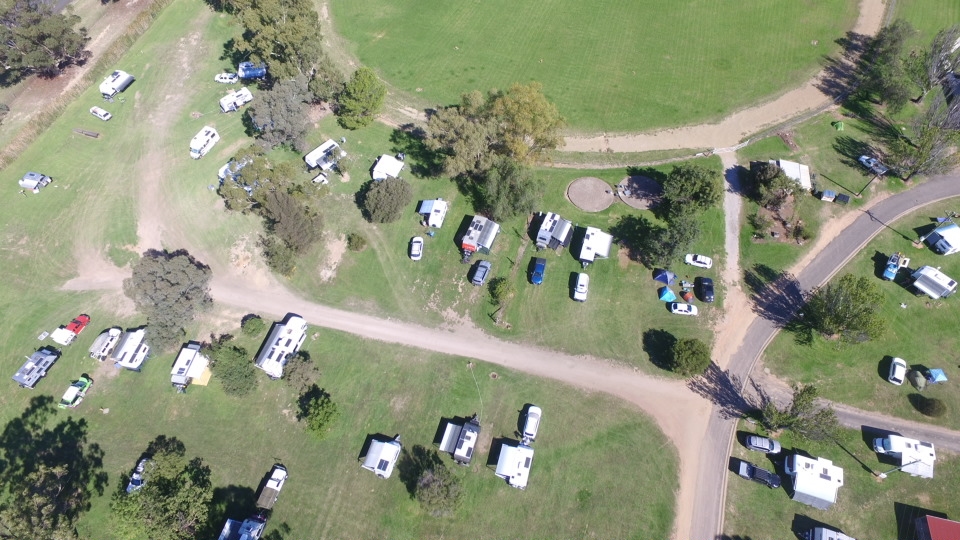 And of course a Mudgee sunset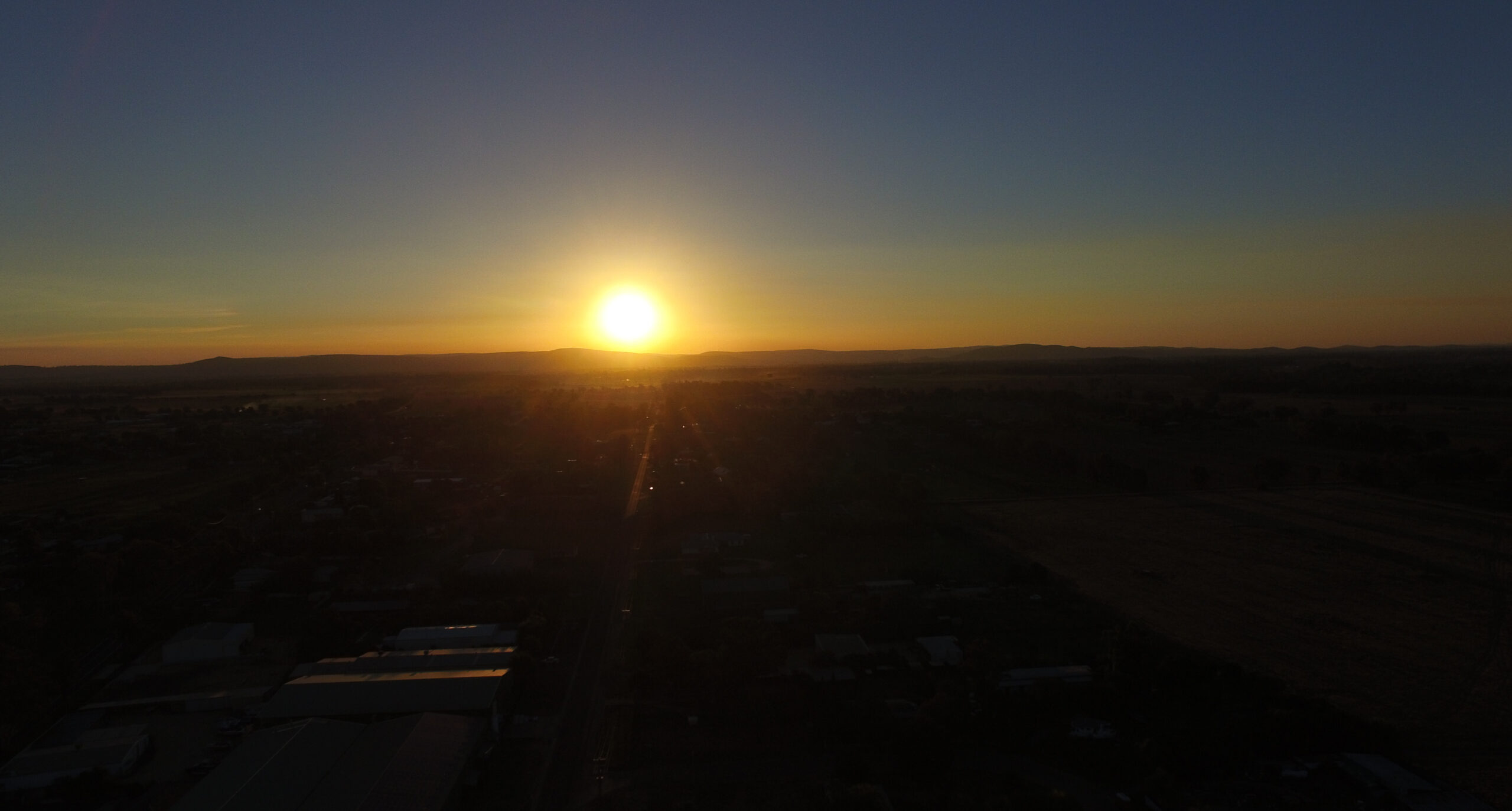 From Mudgee we shot off to Murrurundi. This time we put the annex up as we were staying a few days to catch up with family. Here the overnight temperatures were getting down to single digits so it was time to break out the heater. Do you think the thing would start ? Not a bit of it. Eventually I managed to get it going though. This was to be a recurring theme.
Here's a pic of the caravan park.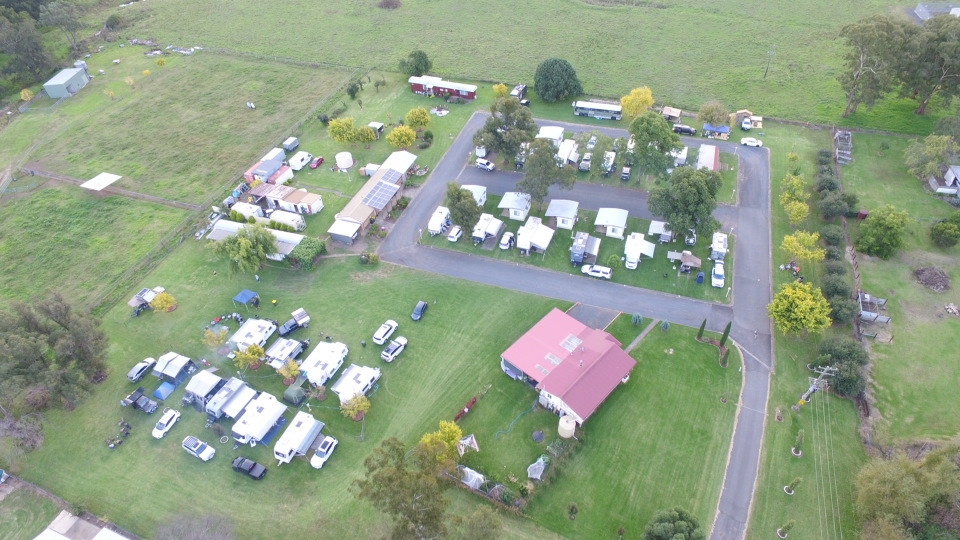 And of course, a sunset  over the caravan park taken from my drone.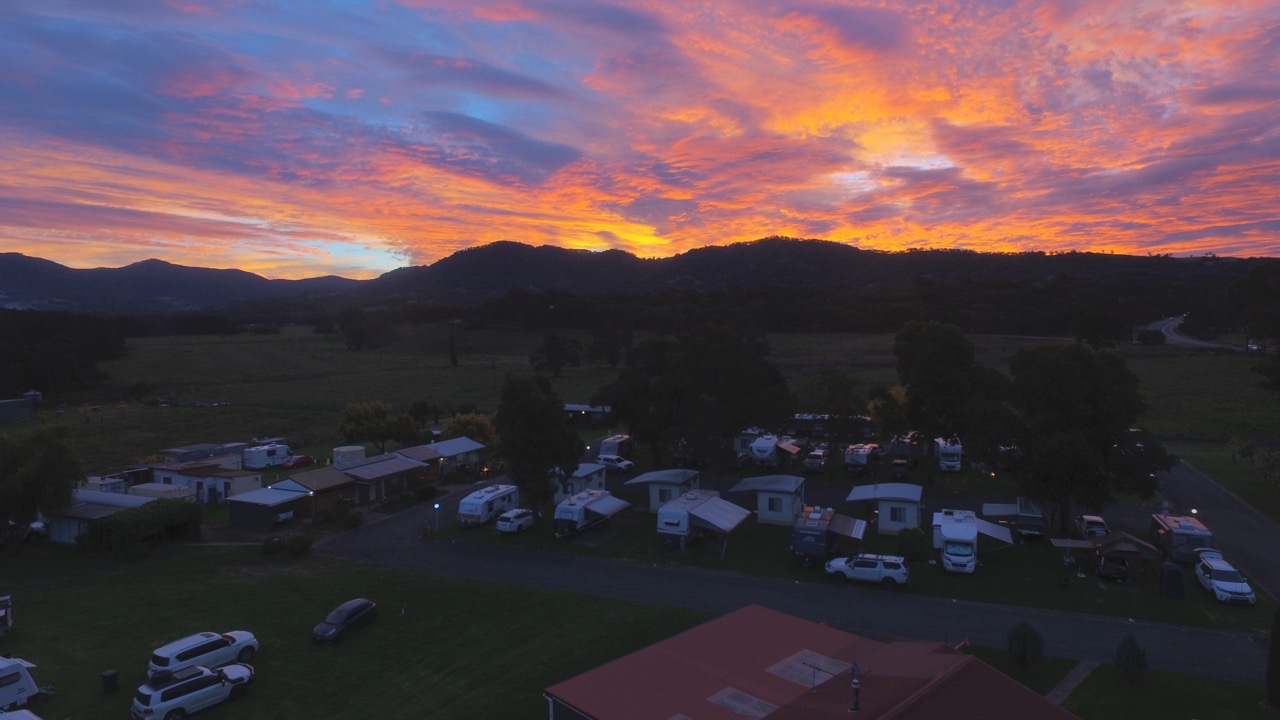 From Murrurundi our careful trip planning went a bit out the window. Because we headed about an hours drive further north to see another relative and the kids we didn't stay at our planned stop at Dubbo. Instead we stopped at a little place called Dunedoo which had a quite pleasant , if a bit noisy (train at 2.00am and a few trucks) caravan park.
Here's a couple of pics.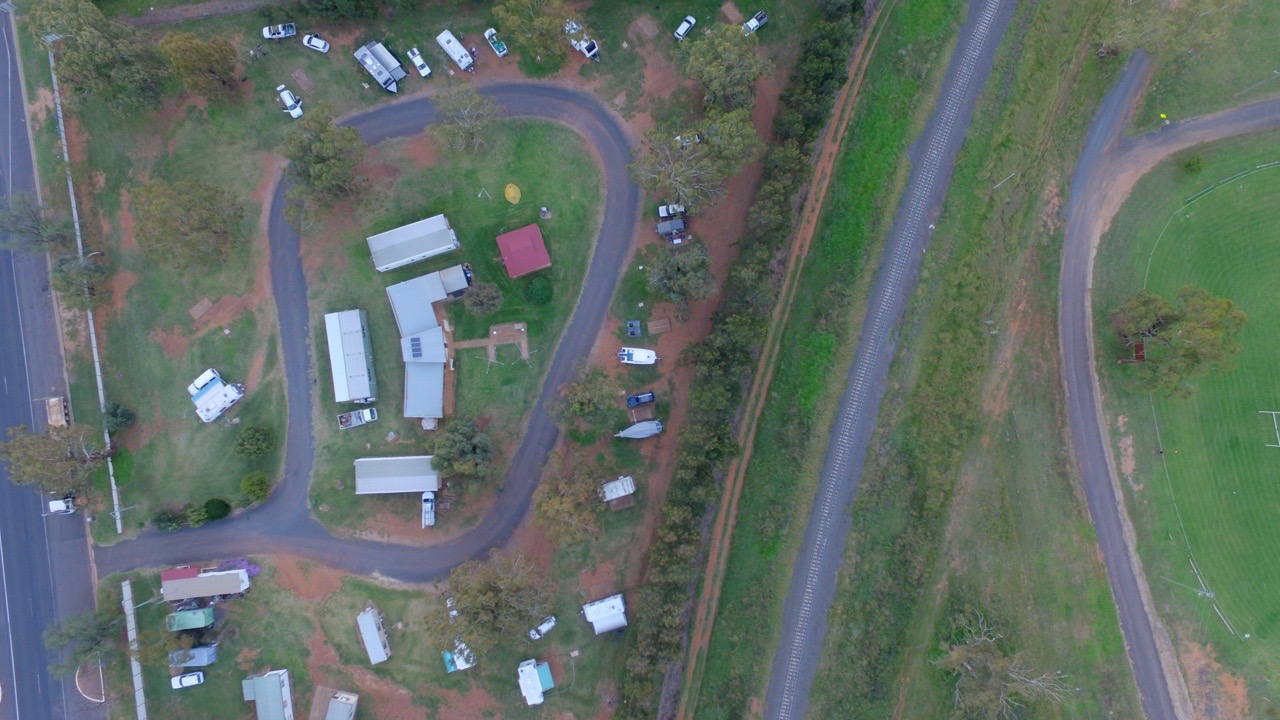 And of course a sunset.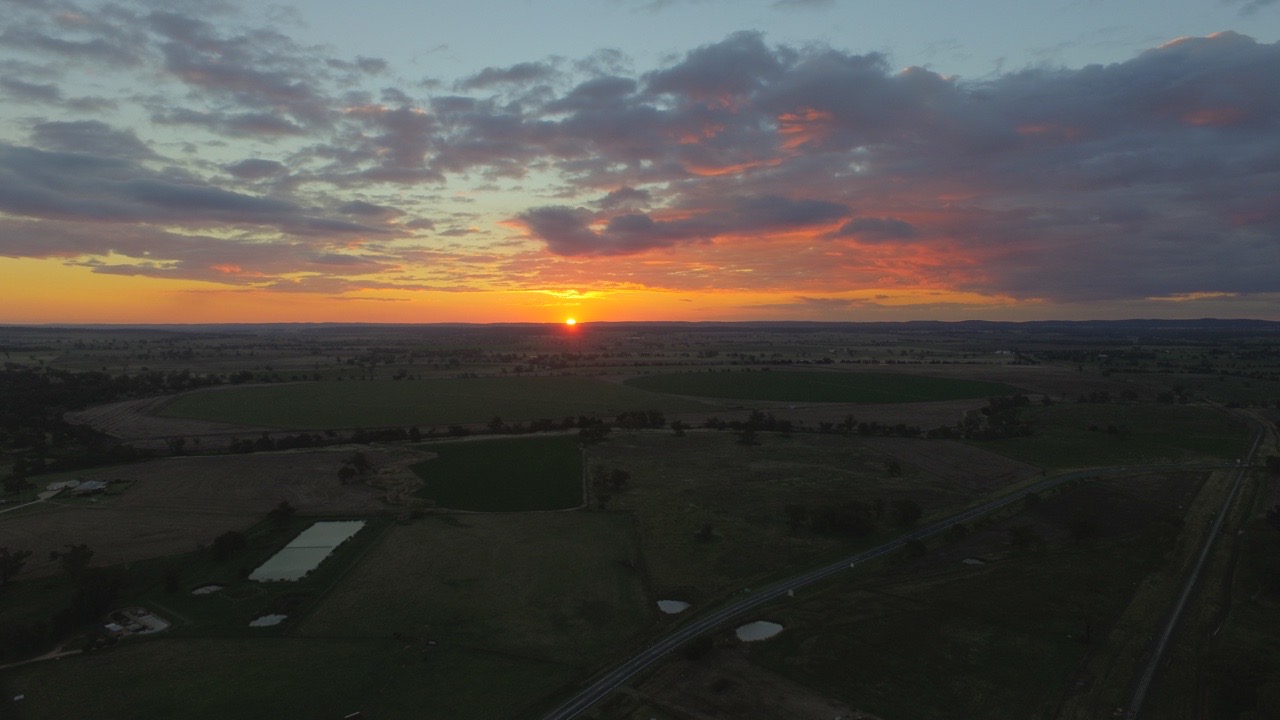 And so onto West Wyalong. Here's the usual pics.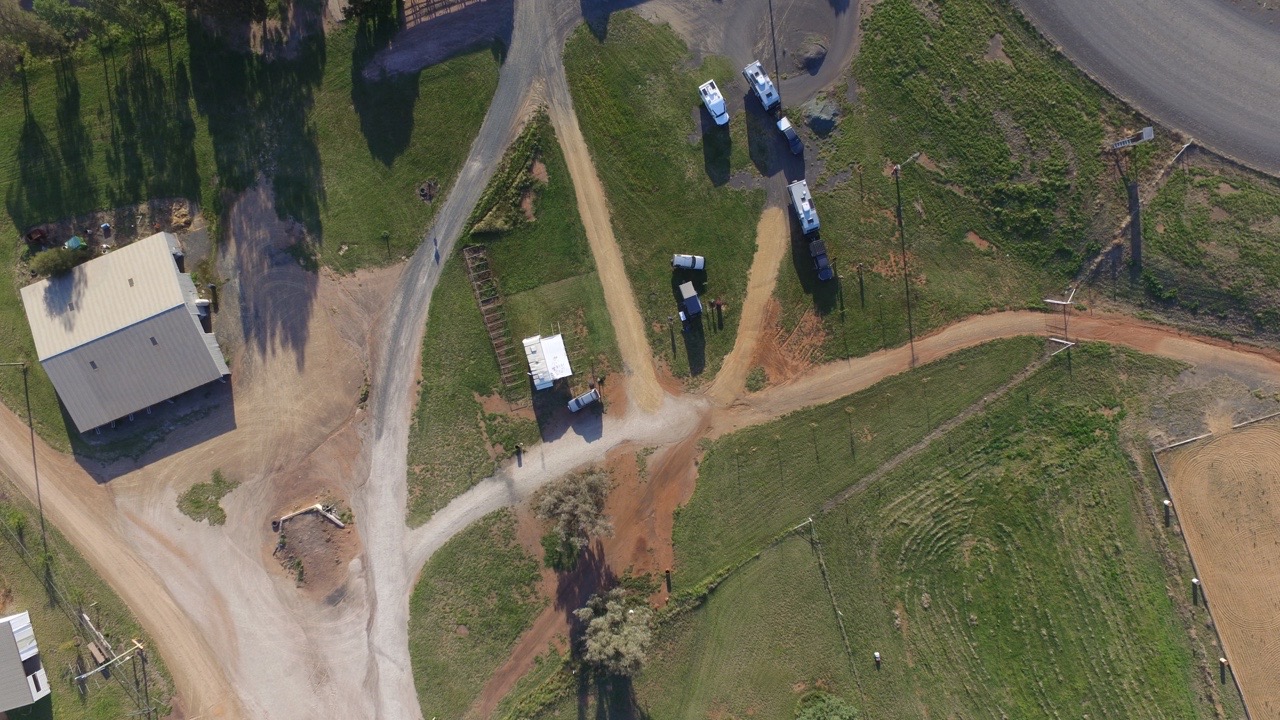 And the sunset.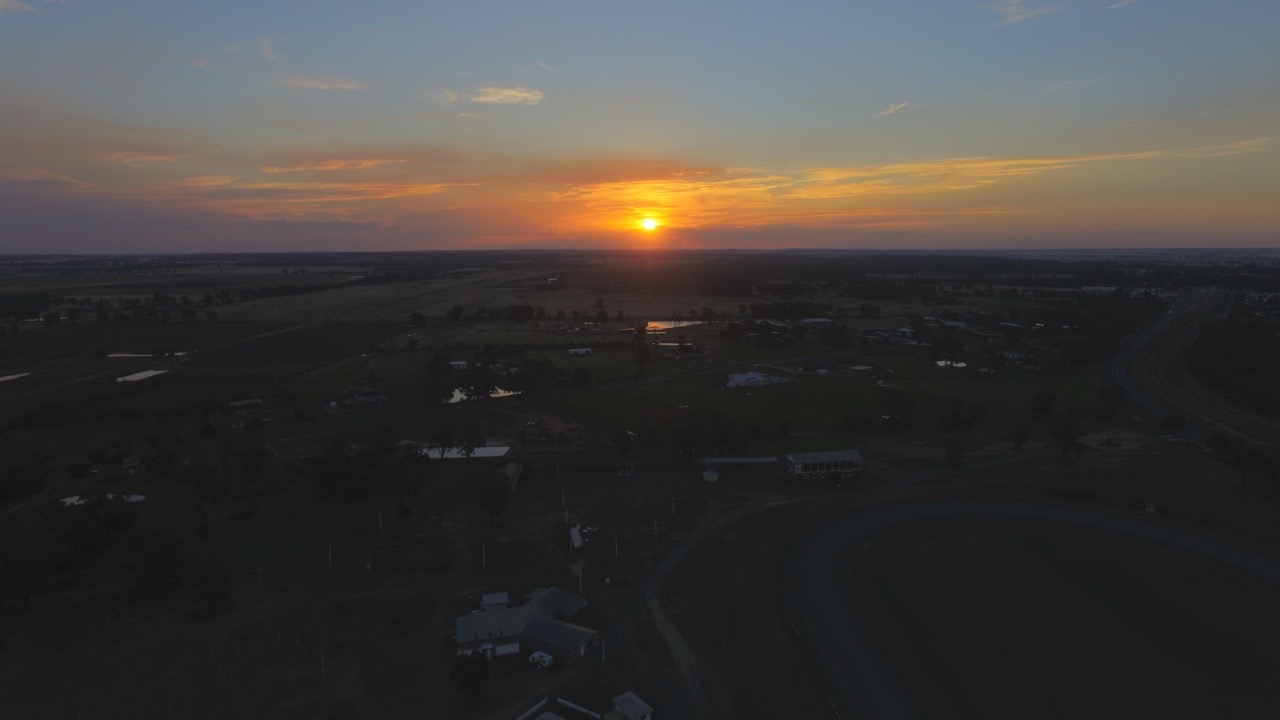 Well, what can I say about West Wyalong? The showgrounds looked quite untidy with lots of long grass in patches. The amenities were quite new and looked amazing. Unfortunately form definitely followed function – not very functional at all. I'll just leave it at that. The crowning glory was the number and variety of insects. Mosquitoes and lots of them. Normally they don't bother me, but here they took great delight in giving me lots of itchy lumps. My poor wife got eaten alive. Midges. The number and savagery of these things is the stuff of legend. The only advantage to the place was the price – it was cheap at fifteen dollars for a powered site. We won't be staying there again!
From West Wyalong we went to the Albury Showgrounds. Here we were quite close to the take-off end of the active runway at the airport. No drone photos there ! Helicopters, big and small as well as loads of aircraft were constantly whizzing overhead at about 500 feet. It wasn't a bad camp though once the air traffic slackened off after dusk. The heater, of course, resisted all attempts to get it going so we went to bead early more for the warmth than the sleep.
Seeing as the purpose was to catch up with relatives we made a visit to one that Jenny hasn't seen for about 40 years. A great catch-up before heading off home.
The last day was spent driving from Albury back to Moe. We were going to spend a day or three camping along the Murray River somewhere near Echuca Village but the weather forecast put us off. Good thing we came home too – the weather turned truly awful.
I'll finish this off with a sunset taken from about 50 metres above the park next door to home.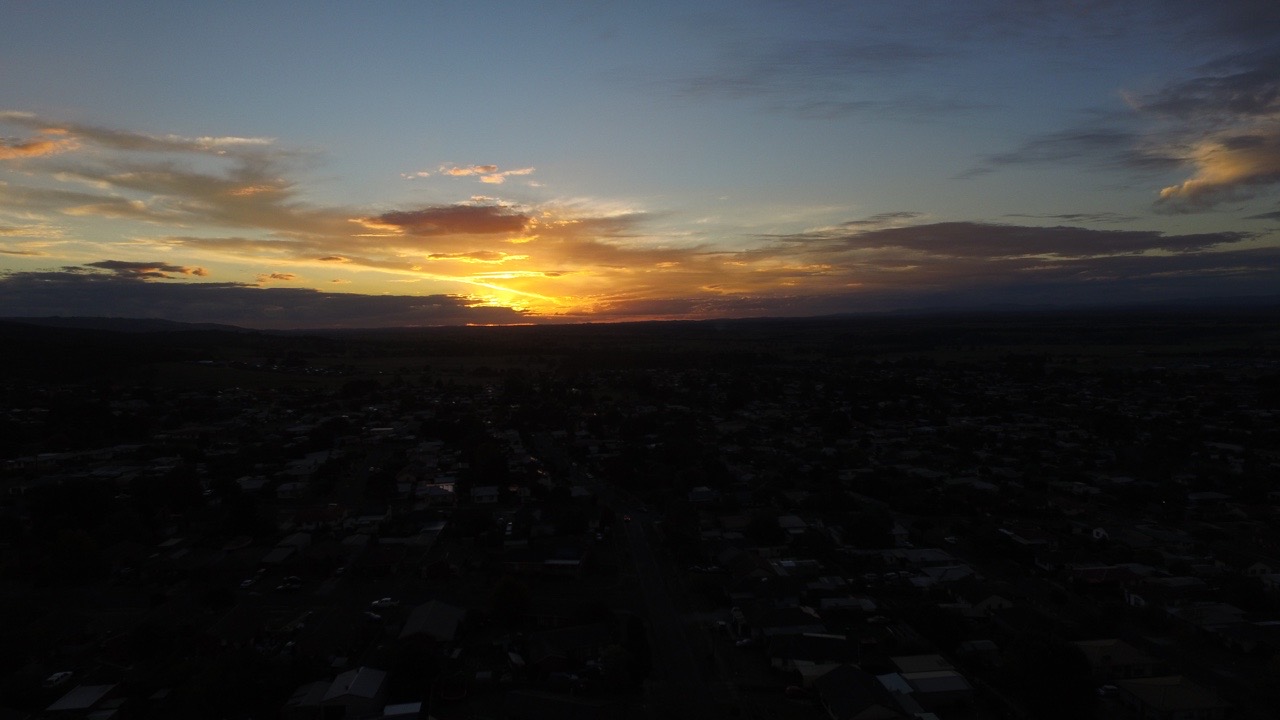 So what went wrong on this trip
Well as per usual not everything went to plan. Whilst the trip up to Murrurundi went entirely to plan the return trip was a bit chaotic although the trip up handed us a few challenges.
First up the DC DC charger in the camper decided that it would not do its job. It transpired that it was caused by an issue with a plug under the camper so a bit of re-crimping of the terminals will fix that. A cheap and easy fix.
Next came the issue with the heater. There was no way that I could get the thing to start. The symptoms pointed to a below par glow plug but, of course, I was wrong. The problem was voltage drop at the plug to the camper. By bypassing that plug and using a connection with much higher current carrying capabilities we now have no heater starting issues. Whew. Another bullet dodged.
And, unsurprisingly, the weather played a part. On the way back from Albury we had planned to bush camp for a few days somewhere along the Murray River. Wrong. The day before we left Albury we had a look at the weather forecast and it was pretty grim. Lots of wind and rain. We've been camping on the Murray before when the weather was marginal and it wasn't pleasant. No walks along the river, no sitting outside watching the river go by, just lots of sitting in the camper reading or idly solving the problems of the world. So given all that we just decided to make a break for home and just grin and bear the boring drive down the highway.
All-in-all though it was a thoroughly enjoyable trip away for ten days or so.
And so, we fix the issues, service the car and camper and get ready for our next trip. This one will be longer adn take in South Australia, the Northern Territory and Western Australia including the Gibb River Road and the Nullabor plain.