South Australia
This will be the last post about this trip.
Well, we had made it to SA sustaining on minor damage.
From Border Village we made our way to the Ceduna Airport Caravan Park. This place appeared a bit run down but it turned out to be a real gem of a place. For a start the amenities were spotlessly clean. We had power and water for our inevitable battery and water top up. It was damn cold – the overnight temperatures had been getting progressively colder since we left Marble Bar in WA. We were now into the low single digits (degrees C) overnight so the heater was getting a good workout.
Seeing as the caravan park had a tavern attached we decided to try our luck getting a bottle or two of wine to have with dinner so wandered across. The caravan park manager was also the barman and when we asked for a bottle of Shiraz he wasn't sure what he had – he mostly sold cans and stubbies  of beer. Anyway he found a bottle of Grey Label 2001 Wolf Blass Shiraz. He was genuinely concerned that it may have "gone off". We assured him that it would be fine and he asked $10.00 for it. We happily paid him and had a bit of fun getting the very crumbly cork out – it had been stored upright in the fridge allowing the cork to dry out. Finally got the cork out and poured a glass and it was very, very good.
There was a local character in the bar so we decided to stay and drink the bottle and have a yarn. It seemed that, among other things, this bloke was the caravan park cleaner. He kept us entertained with tall tales and true for a couple of hours until we had to go and get dinner on and eat. What a great night.
We were rudely awakened early in the morning by a twin engine turbo-prop aircraft taking off over us. We were only a few hundred metres away from the end of the active runway at the Ceduna Airport hence the name of the caravan park.
Next stop Baroota Campground.
Baroota and onwards
Baroota was an honour box camp with no power or water – a bush camp, really. Here's a few pics of the place and the sunset.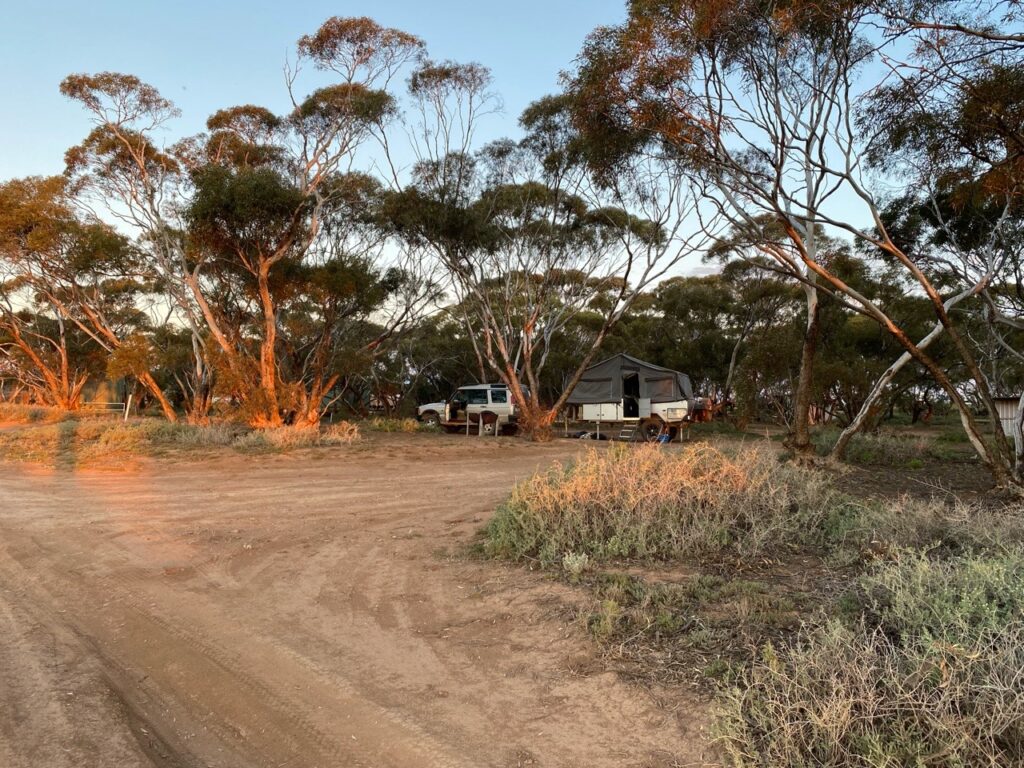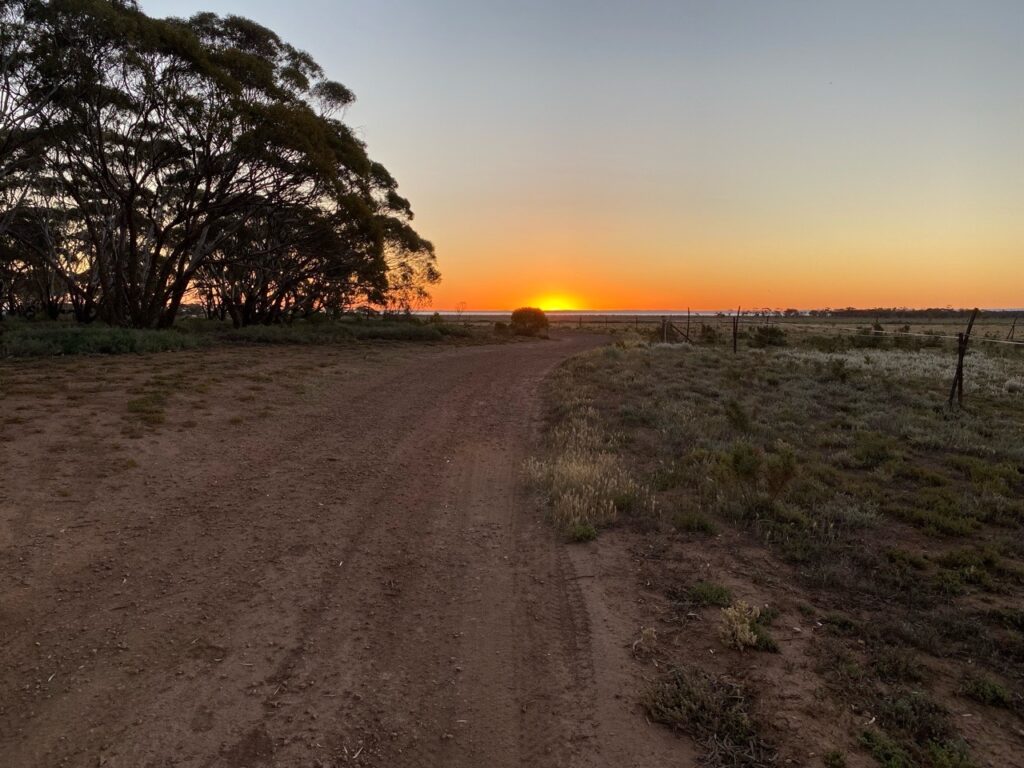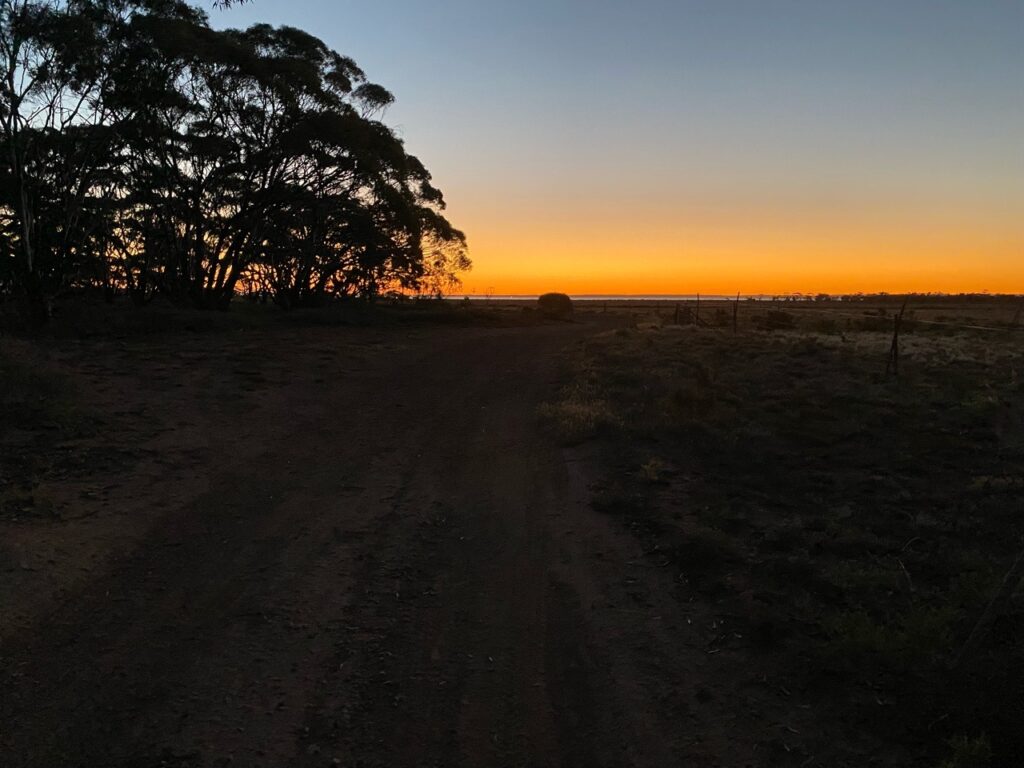 The last of SA
From the thoroughly pleasant Baroota we went to Plush's Bend near Renmark on the Murray River. This wsas another nice spot with the only problem being that the toilets were a short drive away – too far to walk if you needed to "go".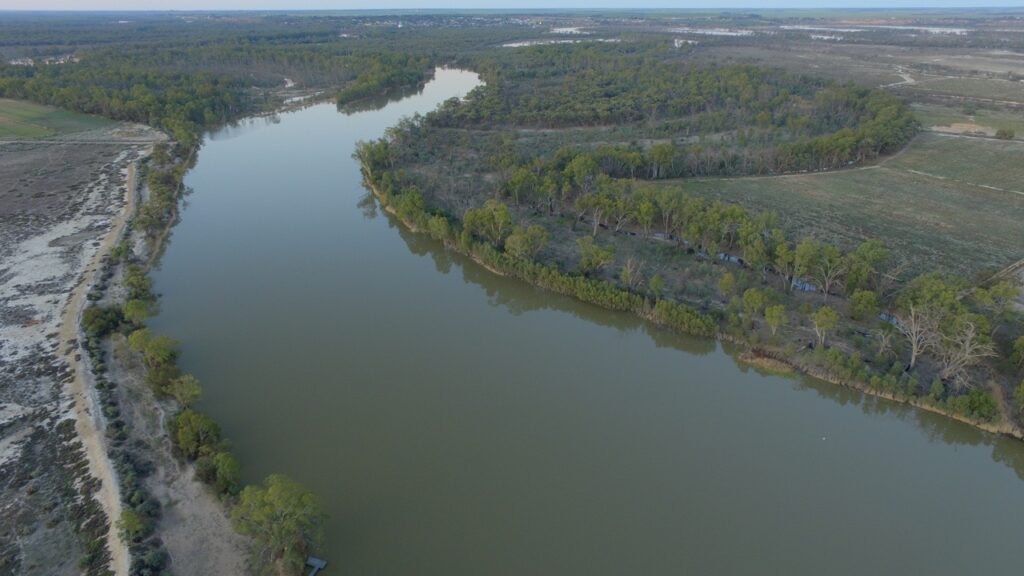 This was a really nice camp right on the bank of the river. While we were near Renmark we, of course, did enough shopping to get us home plus a few days afterwards. In the bottom left corner of the photo you can see a road with some trees next to it. The campsites were nestled in the trees. Once again it was damn cold overnight so the heater got a workout again.
That night we spent time completing the Victoria border crossing form which is something that we got quite good at. The next morning we would be crossing the border into our home state, Victoria.
Into Victoria and home
Well, we crossed the border into Victoria and headed to Sea Lake which was to be our last camping spot. We didn't need to stop to have our forms checked or anything but we did need to have them completed and the confirmation on hand. Let me tell you, iPad's are really handy for this sort of thing.
We have stayed at the Sealake Travellers Rest and Caravan Park a number of times in the past and we reckon it's a great place. Cheap too. We walked into to town and got a few things at the supermarket and went back to our camp and cooked and ate dinner. We had a couple of bottles of wine that we got in Renmark so all we needed was to buy some fuel and head on home.
The run into Melbourne went as well as it can with the traffic steadily building as we go closer. It came as a bit of a shock to have to deal with traffic after a few months away and not needing to worry about such mundane things.
We got to within about 120 kilometres of home and a gearbox oil cooler hose split bringing us to a complete stop. We were on a section of the freeway whhere there was no emergency stopping lane so the wait for the RACV to send a flat top truck was somewhat harrowing with the traffic whizzing past at 100 kph or more.
The truck came and decided that they would need two trucks – one for the car and one for the camper. Thankfully the RACV were footing the bill via their Total Care roadside assist package.
Arriving home on the back of a truck was not how we had visualised the end of our trip.
The final word
Well our trip had come to an end. Along the way we saw a lot of sights that most people wouldn't see. We had a whole load of new experiences both good and bad. We got to exercise our flexibility and went to some marvelous places. And above all else, we had an adventure. By the time it ended we were getting a bit over travelling and not seeing the family or our own home.
Would we do it again ? Of course but with some changes. We'd take a few more days off where and when we at and not be dictated to by breakdowns and pandemics.
On the whole we were fortunate in that we ere able to recover the breakdowns with a minimum of fuss and get the repairs done at a reasonable cost. We escaped the worst of COVID-19 and managed to travel where and hen we wanted apart from the lockdown at Woomera.
That's it from me now that we're back home straight into a lockdown situation. I'll leave you with a map of the whole trip and a few trip photos in a gallery on this site. The map says that our total trip distance was 11,286 kilometres but it was closer to 15,000 because of side trips, etc. Our fuel consumption was around 13.5 litres / 100 kilometres or 21 Miles / Gallon (imperial) or 17.5 MPG (US) which is pretty damn good towing a two tonne trailer around. people we spoke to were getting around 20 or 25 litres / 100 kilometres. The Land Rover is a thrifty beast.
Without further ado, here's the map.
The last word
Well, that's The Big Trip done and dusted.
What now ? Well this trip took three years to get on the road due to COVID-19 and other aggravations. It also took a great deal of planning.
Seeing as this trip took so long to get underway I'm starting to plan the next trip. We're looking at far north Queensland – FNQ for short.
Planning starts now.
Cheers