A smaller lighter camper
Our Balance Trailers forward fold camper is a ripper apart from two things.
Firstly it's heavy at nearly two tonnes loaded up and ready to go. Secondly, it's big and if we want to erect the annex it takes a while and is a fair bit of effort. Packing it up is a bit of a process too. It takes a while to get all the canvas neatly tucked in so we can close. It needs a winch to open the camper up and another winch to close it.
After out Big Trip we decided a few things. Towing such a large and heavy camper restricted the places we could go. Anywhere loose and sandy or steep and rocky was certainly off the menu. There was far too much money tied up in it and if we were moving nearly every day at great deal of time and effort was put into putting it up and taking it down.
The search started for a smaller and lighter camper was on. There were a few hard and fast criteria that had to be met. We would not tolerate a sleeping arrangement that required us to clamber over each other to get in or out of bed. It needed to have a water tank of at least 50 litres. It needed to have adequate storage space. It needed to be lightweight and easy to erect and pack up. And it needed to be relatively inexpensive. I know, "cheap, good, light and easy" – choose two. Cheap and good and it won't be light and easy, etc.
After much searching through a few sales and auction web sites, not to mention the numerous Facebook buy, swap and sell pages, we had a short list of four to have a look at.
Many phone calls and message exchanges ensued and then there were two. One of them was away for work until early May so then there was one. It was an Outback Campers Sturt Camper Trailer. These are locally built from local (Australian) materials. The reviews are without exception good. And it looks to be a very solid unit.
Off we went to have a look at it and it transpired that it is exactly what we were looking for. Money changed hands.
Of course there are a few shortcomings that can be easily fixed. The battery in it is on its last legs so that needs to be replaced (perfect opportunity to go Lithium). The solar regulator is a primitive cheap affair but I have a spare Victron one that I can easily fit. Ditto with the DC-DC charger and the 240V charger. The trailer and the canvas are both in top condition. As an added bonus the seller offered to deliver it to our place at no extra cost.
Here a photo from the Outback web site.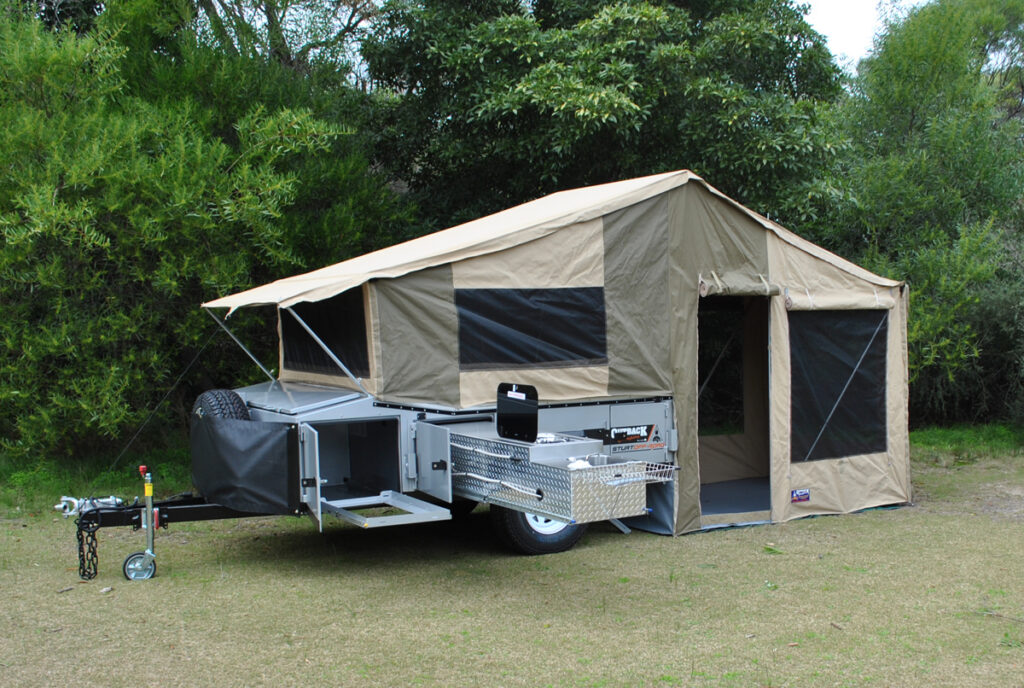 This is a newer model but the changes are minimal. Ours has no fridge slide and the kitchen is made of marine ply and not stainless steel.
We've got it so now what ?
First thing to do is to put it up, of course.
So much easier and faster than the old camper. It takes a few minutes longer but with only minimal effort. This was our first time erecting it and we made a few blunders but it was still a lot less effort. With practice it'll get easier and faster.
So what are the shortcomings ? As mentioned the battery and the whole 12V system including the solar regulator is a bit "tired". The battery was taken out and tested with the expected result. Dead. The solar controller was just dumped as it's a cheap PWM controller. There was no DCDC or mains charger. Another notable absence was any sign of a fuse or circuit breaker.
A bit of a rework was in order. I purchased a  Victron 12V, 160Ah LiFePo4 battery for a very keen price. The rest of the stuff I already had. The wiring was stripped out and replaced with new heavier cabling and the solar controller, the DCDC charger and the mains  charger were all fitted and wired. It's all Victron so I expect it to perform well. There are now fuses and a battery isolator.
There is no internal lighting but that can be rectified easily enough. I just need to get a couple of LED strips and switches and then run a bit of wiring around the place.
The tow hitch is an Orac hitch which, as we found, is a total pain to hitch up. It has to go and will be replaced by our old favourite – the humble polyblock coupling. Of course the Orac beast is welded on so we'll have to get it done professionally.
The water supply to the kitchen is only via a leaky hand pump so that needs to go too. I'll replace it with an electric diaphragm pump when I get around to it. The hand pump will suffice in the meantime.
So that's about it for the modifications so it's time for a test run for a couple of days.
Our first trip away in it
So where to go ? Our son is doing some house renovations at Golden Beach. Conveniently the house is on a large block which has a huge amount of nearly level space. Just right for the camper. Our son is living on site so we have access to the usual amenities which is a bonus that we didn't use.
As you can see it's only about 110km or about ninety minutes from home so nothing too arduous.
We chose the most level space and got ourselves set up. It looks a bit wonky but the ground was far from level.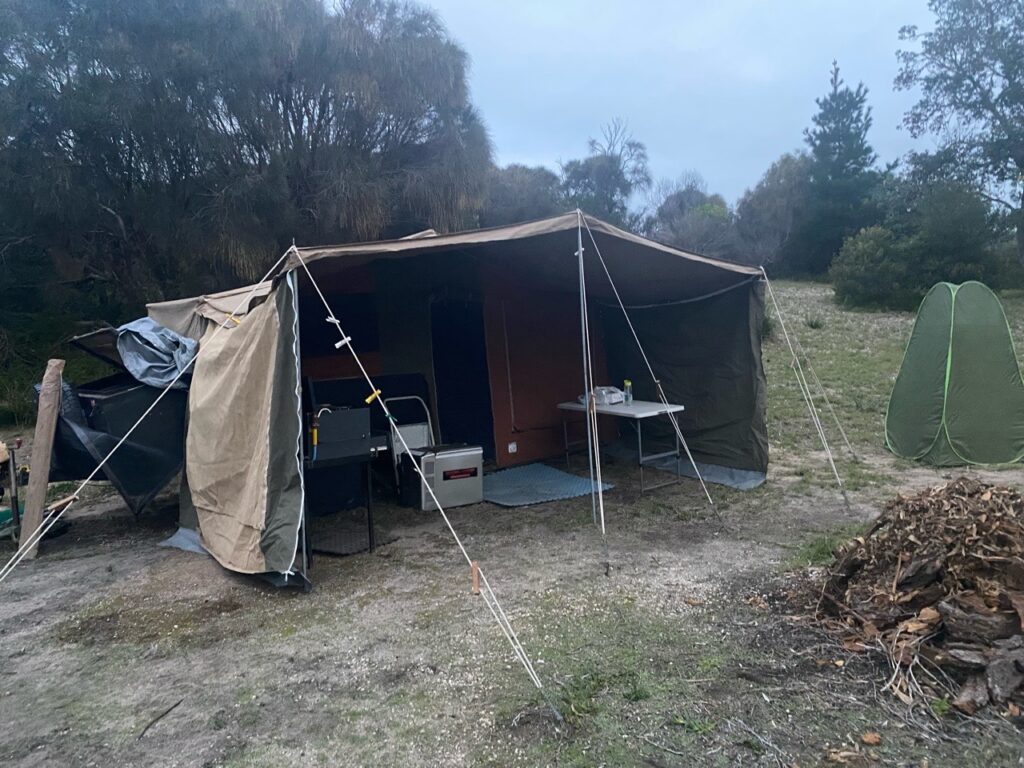 Our first ever setup of our new camper.
So what now ?
First up the jockey wheel needs replacing. Of course the current one is welded so a bit of angle grinder work is in order. We need to make up an extension lead for the fridge so it doesn't need to be hauled out of the car. Either that or get a fridge stand so it can be set up near the stove.
We need to get some lighting organised for inside the camper and under the annex.
Tent pegs. The pegs that came with the camper are all bent to one degree or another. The had ground only made the situation worse of course. We'll get some screw in pegs which'll be a lot better especially on hard ground. This is essential as in the near future we'll be heading to Stenhouse Bay in SA again soon and the ground there is very hard. We met others there who had no trouble with screw in pegs.
As already mentioned the manual water pump will be replaced by an electric pump and I'm sure that we'll find more things to address in the future but in the meantime this camper is light, easy to tow, easy to set up and has a very comfortable mattress. I reckon we should be very happy with it.