Across the WA border – eventually
So the day came and we set sail from Pussycat Flats at Pine Creek for the Western Australia border. We had our G2G forms completed and had received the official green tick e-mail which indicated that we were all good.
When we got to within about twenty kilometres of the border we stopped at a roadside stop which allowed for 24 hour stays. This became important later. There were quite a number of people already camped there.
We stopped, went to the toilet and had some lunch. Because we were unable to take fruit or vegetables into WA we had a lunch of fruit and some veg that we knew would be confiscated at the border. WA is fruit fly free and the NT isn't so fruit and veg, with a few exceptions, isn't allowed to cross the border.
After lunch we headed west to the border and joined the queue. When we got to the head of the queue, after about an hour and a half only to be told in no uncertain terms that despite what our WA Government pass said we weren't allowed to cross into WA. We tried arguing the point but the police woman was as tractable as Mt. Everest and wouldn't budge from her "turn around" position. We asked where we could stay and she had no answer apart from "you can turn around here". We tried telling her that we were running short on fuel and were planning to refuel in Kununurra after we crossed. "Turn around" was the answer.
So back to the rest stop. By the time we got there all the available space was already taken so we parked just off a track beside the rest area. By this time the toilets had blocked up and the place had become unpleasant. Very unpleasant.
After talking to a few people we discovered that we needed to have been in the NT for fourteen clear days and not just fourteen days and that we should be OK the next day. One of the people that we spoke to had just discovered that they would need to wait another week even though the G2G app had told them they could enter WA. We were also told that the queue was up to five hours. We decided that the best course of action was to cook dinner and retire early and in no particular rush just pack up and head to the border in the morning.
Imagine our surprise when we got to the border the next day and there were only a few cars ahead of us and that they were being processed quickly. When it was our turn the policeman had a look at our G2G passes, entered the details into his iPad and waved us on to the fruit and veg quarantine station. We had a few potatoes, half a cucumber, an onion and half a lettuce that were confiscated and off we went.
We had decided that we were going to stay at the Kununurra showgrounds and when we got there we found that we had to, once again, queue up as they were only letting people in after 10.00am. Worse we were about fifth in the queue and there were only four spots left.
After a bit of a wait and a whole lot of confusion we were assigned a site and we got set up. At last, after a deal of messing about we were in WA.
Onwards from Kununurra
After a very nice overnight stay at the Kununarra Showgrounds it was westward to Fitzroy Crossing. The twon was a depressing place and given the recent trouble we decided to keep going to Old Halls Creek in preference to the caravan park at Fitzroy Crossing.
We were unable to get any wine at Fitzroy Crossing as it had been declared a "dry" area following the trouble at the caravan park. When we got to Halls Creek we found that the only drink that was available was light beer and we aren't beer drinkers. Oh well, such is life in the outback.
Old Halls Creek is a bloody interesting place as it is really the birthplace of the idea of the Royal Flying Doctor Service following an incident with a local stockman by the name of Jimmy Darcy. Here's a link to the story on the RFDS web site.  It's worth mentioning that the surgery took over seven hours with Postmaster Tuckett being instructed by the Doctor via morse code. Darcy must have been made of stern stuff indeed.
Here's the memorial to the Reverend John Flynn and the stockman Jimmy Darcy.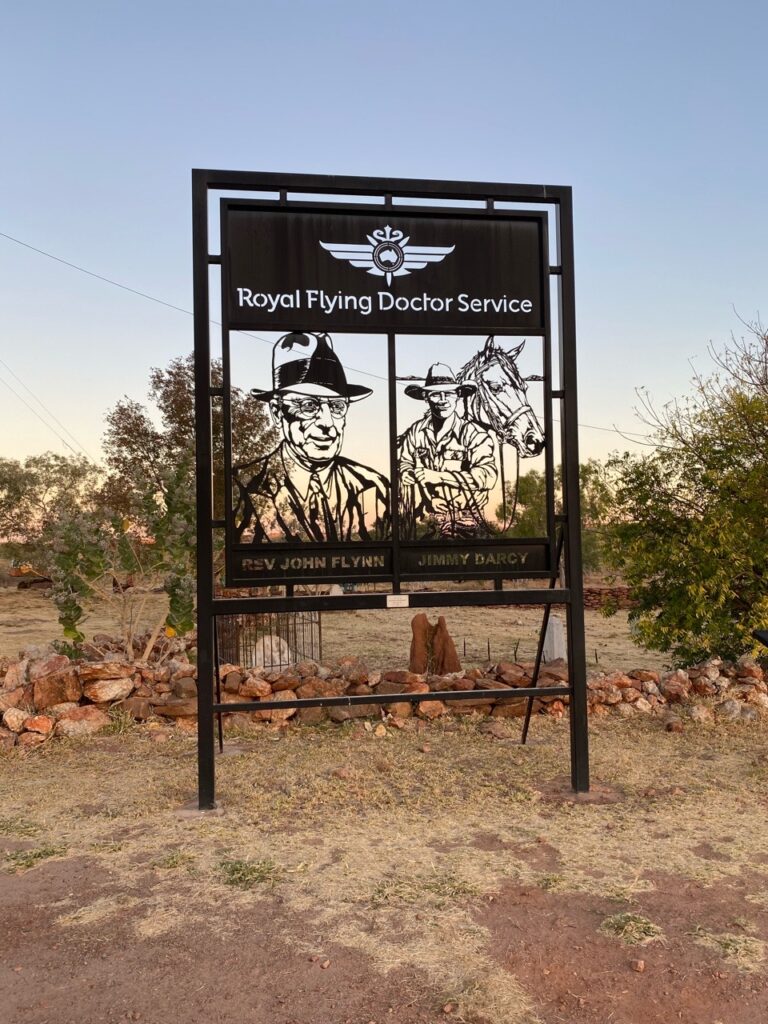 As I say. Old Halls Creek is a very interesting place. The headstones in the old cemetery make interesting reading too.
Off to Marble Bar
After Halls Creek we spent a night at Ellendale Free Camp  where twenty four hour stays were permitted. The place would have been really nice if people weren't such pigs. The place had toilets that were full to overflowing and the place was very generously littered with streamers of toilet paper. We found a quiet corner and set up with our own portable toilet and privacy tent.
Next day we shot off to Broome's Gateway Caravan Park which was a nice place. Again we had a chance to get the washing done and the camper cleaned up a bit. You'd be surprised at how much red dust you can collect on a daily basis. Loads of the stuff.
After Broome's Gateway we went to the campground at Pardoo Roadhouse and tavern. As luck would have it we were able to get a couple of bottles of wine to have with dinner. The place was a bit of a shambles but we managed to find a spot and get set up OK.
The mess at the roadside stops and the shambles at caravan parks bears testament to the sheer number of people travelling. The numbers were unbelievable. We made a pact with ourselves that we would book, where possible, everywhere we were going to stay from here on. It turned out to be a good decision too as a lot of the places we stayed on the remainder of the trip were full by the time we got to our pre-booked spot.
Marble Bar
This is where we started to have things go wrong. Very, very wrong. We had decided to spend a couple of days at Marble Bar because it is such an iconic place. It is widely billed as the hottest place in Australia which isn't quite true, that honour belongs to Wyndham in WA. Marble Bar does, however, hold the record for the number of consecutive days over 100 deg F (37.8 deg C) – one hundred and sixty days. When we were there it was in the high 30's deg C and it was winter.
When we got there I had a common cold which developed into a severe chest infection. My wife called for an ambulance when I was unable to stand or walk or anything. She says that I was confused and making no sense and in an all around bad way but I can't remember that at all.
Marble Bar has no doctor having a permanent population of 174 as at the 2016 census but it does have a Nursing Post staffed by remote area nurses. They quickly diagnosed a chest infection and I had a doctors consultation via Zoom to confirm it or not. The doctor was quite concerned about my mental state and was thinking of evacuating me to Port Hedland by RFDS flight. The nurse at Marble Bar argued against that telling the doctor that a large quantity of Panadol had brought my temperature down and that a load of antibiotics was indicated. The doctor prescribed them and after a couple of hours and another Zoom consultation the doctor was quite happy for me to go back to the caravan park with lots of antibiotics in hand. I was also given strict instructions to rest for a couple of days. My wife, Jenny, made good and sure that the instructions were followed to the absolute letter.
The next day when I went back to have the cannula removed the nurse revealed that my temperature when I first got there was 39.8 deg C.
We spent another couple of days there while I recovered enough to be able to travel.
We didn't get to have a drink or two in the pub or to see any of the sites but we got to experience first hand the generosity of a small community. We really should go back there some day.
Without further ado, here's a map of the trip between Pine Creek, NT and Marble Bar WA.
And on to Newman and Meekatharra
When we finally felt comfortable enough to leave Marble Bar we headed towards Newman. Newman is the site of the mine which is the biggest hole in the ground on the planet – the Mount Whaleback Mine. This mine is an iron ore mine which is the biggest single-pit open-pit mine there is. It's huge. Bloody HUGE.
Because Western Australia is such a huge place I'll put the rest on another post.