Getting in to the NT
From Marla e headed to the Erldunda Roadhouse and Caravan Park at Ghan in the NT but before we could get there we had to go through the border crossing. This was a few kilometres into the NT so that the checking station could have mobile phone coverage so our details could be checked against the online form we completed at Marla. The checkpoint was at Kulgera.
We had to wait while a couple of carloads were checked and then it was our turn. Oh joy, we thought but in the end it was only about a forty minute holdup while all, and I mean all of our details were checked. The police were very pleasant and made the process as easy as they could and we were on our way.
As an aside – just about everywhere you go in Australia currently has a QR code on the door and you must check in either by QR code or by leaving your contact details. Needless to say each state and territory has their own phone app. We use the QR code as the apps all have the ability to keep a history of where you were. Later in the trip this proved invaluable – we would have been sunk without our history. Anyway the police at the SA/NT border suggested that we install the NT app while we were waiting to be processed, which we did.
Off we went to Erldunda which is very dusty and seeing as it was very windy our collection of red dirt got a good boost.
A word about red dirt. There are vast expanses of the stuff. It is so fine, finer than talcum powder,  that it can even find its way into sealed Tuppaware containers. If it's even a little bit breezy it swirls into every nook and cranny. And it stains. There is no trick to getting the stain out – you're stuck with it.
This is Erldunda Caravan Park, plenty of red dirt.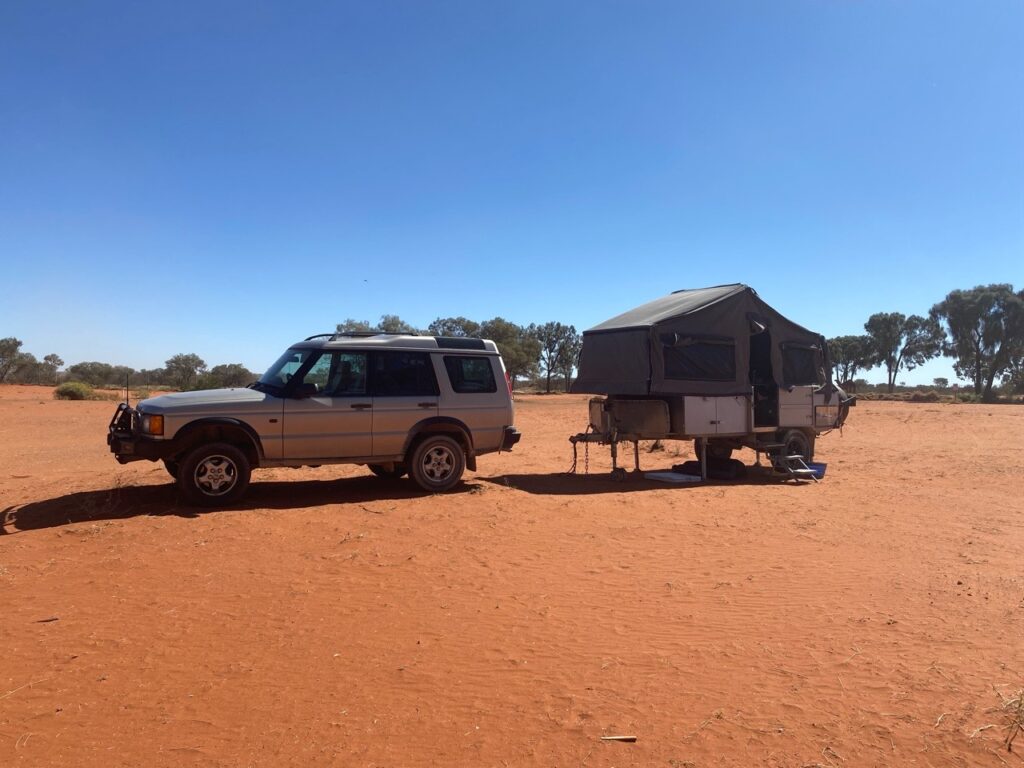 And to add a bit of context to the place names here's the map from Marla to Erldunda.
Alice Springs
After Erldunda the next stop at Alice Springs. We stayed at a thoroughly pleasant place. Blatherskite Park – the Alice Springs showgrounds. We stayed a couple of days as we needed to do yet more washing as well as a big shop for food and supplies. We also needed a battery charge as well as a water tank top-up. The campers' water tank holds 120 litres so it lasts us a while and we have 200 Ah of battery with only lighting and a 40 litre Engel compressor fridge to run so that will last about 3 days with no recharge.
Here's a drone photo of our setup at the Showgrounds.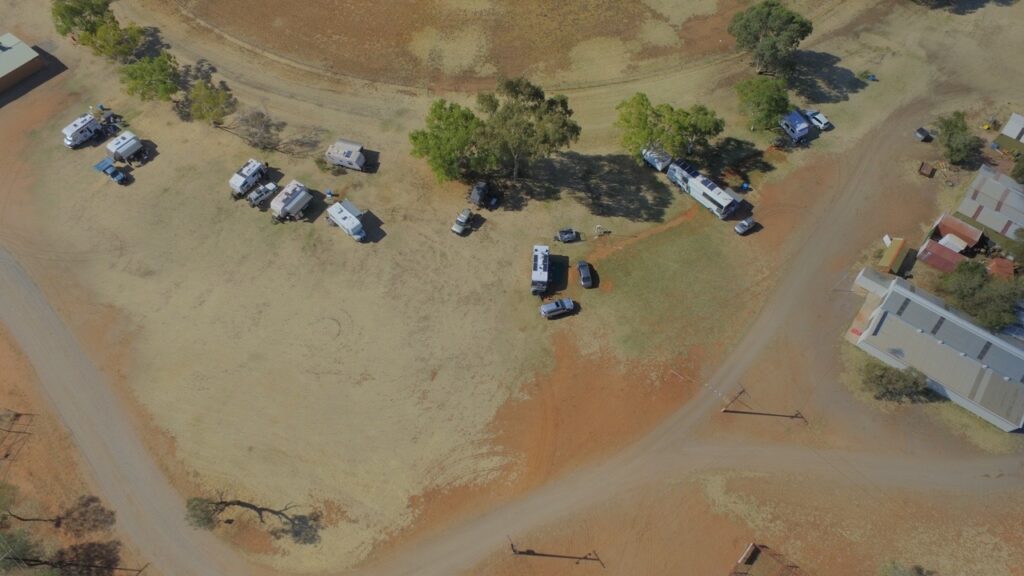 We're in the middle under the tree.
Here's a drone shot of the sunset.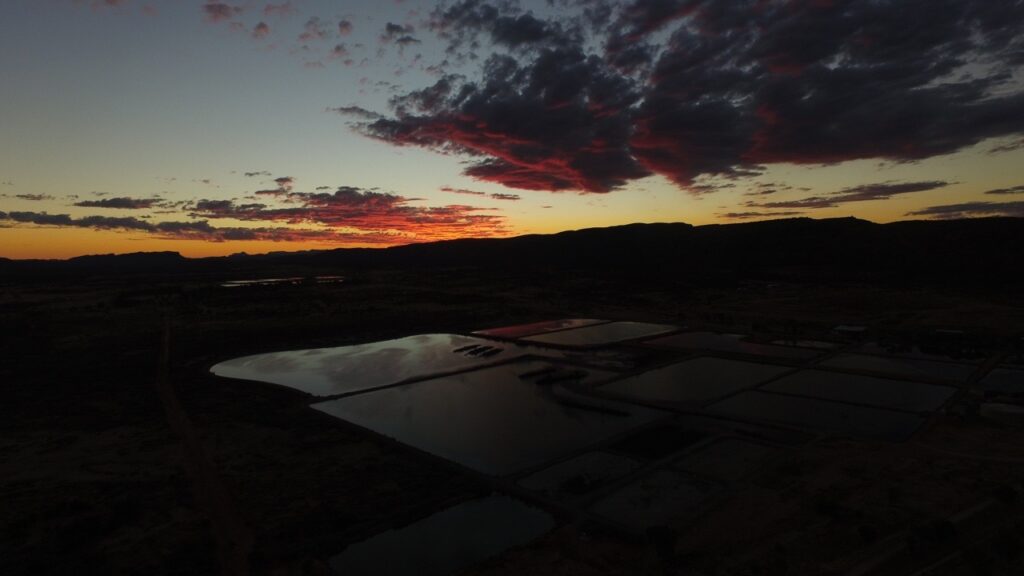 To Ti Tree, Tennant Creek and Daly Waters
This part of the trip was just a few days of long drives along the Stuart Highway – long, wide and straight. The caravan parks that we stayed at were pretty ho-hum. Just a place to stop, eat and sleep. We were going to stay at Daly Waters for a couple of days but because of the local youth behavior neither of us felt at ease there. We stayed one night and headed off to Pine Creek the next day with a shopping stop in Katherine where they have a Woolworths Supermarket. Why Woolworths ? Simply because that's our chain supermarket of choice and they're in just about all major centres.
Pine Creek and Kakadu
The Racing Club in Pine Creek have opened up the racecourse and surrounds to campers and caravans as well as tents, motorhomes and whatever else. The place is called Pussycat Flats and is thoroughly delightful. We stayed a few days there before heading into the Kakadu National Park. Whilst Pine Creek doesn't have a supermarket or anything it is a lovely town and we even able to get a few bottles of wine.
A word here about alcohol in remote areas. First thing is that it's expensive. A bottle that we can get here in Moe, Victora for $8.00 commonly sells for $20.00 or more in remote areas. Also there are restrictions on how much you can buy on any one day – usually two bottles. Further, before you can buy any alcohol you need to produce some sort of photo identification which is used to check the prohibited persons database as well as other purchases n that day. A lot of small outback towns have a domestic violence problem which is largely fuelled by alcohol so this is an attempt to limit the damage that alcohol can cause.
Anyway, I digress so back to Pussycat Flats. The camping ground has a bar which is open to people staying there only and only for two hours a day – 5.00pm until 7.00pm. We spent our few days there getting things cleaned up and did the inevitable couple of loads of washing. We also spent a deal of time just talking to other travellers. It became a bit of a standing joke around the place that we had just forgotten to leave.
It's probably worth noting that since e left Erldunda e hadn't seen a cloud in the sky and the temperatures were in the mid twenty's to mid thirty's degrees Celsius range with the humidity increasing as we got further north. Our solar panels did a sterling job ensuring that by lunchtime every day we had fully charged batteries.
The time came to head off into Kakadu. Our first camp was at the Malabanjbanjdju camp site. When we got to the site the humidity was extremely high – around 90% with a temperature of 36 deg C according to the park ranger. Not pleasant. Still and all, the camp was a lovely place and we had a great stay and a good look around. We were told that if we wanted to see any crocodiles we'd need to go down to the billabong. The problem with that was that we'd have to make our way through about a hundred metres of long grass which in the words of the park ranger was "full of snakes" Taipans, Brown Snakes, etc. These snakes are among the most deadly four or five in the world. We didn't go seeking out crocodiles.
When we researched Malabanjbanjdju we didn't read about the insect life. The number, and variety, of biting insects was truly incredible so after a couple of nights we decided to decamp and move somewhere else before we were eaten.
So off we went to Muirella Campground. Here we had hot showers and flushing toilets, bonus. We had been making use of baby wipes to get a bit cleaned up at the end of each day at Malabanjbanjdju so a hot shower was welcome.
WHen the park ranger came around to collect our fees he mentioned that we should shower in daylight as the snakes like to come out at night to lay on the warm concrete near the showers. Point taken. While we were at Muirella e also had enough mobile phone internet coverage to be able to complete the 2021 Australian Census forms online.
e stayed at Muirella for a while and it was really nice. We even had an almost total lack of biting and stinging insects. We didn't go down to the billabong due to having to wade through thigh deep long grass that would undoubtedly be full of snakes.
On our drive into, and out of  Kakadu we saw crocodiles along the rivers and billabongs. Big buggers, too. That was the end of our Kakadu experience.
If you're thinking of going to Kakadu stay away from the resorts and tourist "attractions" for they are really expensive. Really expensive.
Back to Pine Creek at Pussycat Flats for a couple of days and the onto Western Australia where a surprise awaited us. Our last task at Pussycat Flats was to complete the G2G form to enable us to enter WA. What an ordeal that form was too. Still, we got it done and it gave us the "green tick" which indicated that we could enter WA without issue.
Wrong.