How are you going to do this
For a neophyte the choices are bewildering. You can choose sleeping and sheltering in the back of the car, a swag, a tent, a rooftop tent, a ute and a slide on camper, a camper trailer, a small caravan, a complete palace on wheels or a motorhome. Do you want to tow something or not ? Is set up and pack up time a limitation ? What are you physically able to do in the way of set up and pack up ? What vehicle are you using and how much can it carry and / or tow ? Are you going to be living in your rig full time or for extended periods ? Do you envisage rough and extended outback trips ? Are you only going to use the rig a few times a year for holidays ?
Once you get into the realm of travelling by bicycle or motorbike or camel or on horseback or something else, the choices become even more bewildering. I'm going to limit this post to the choices concerning a car of some description and some sort of camper trailer as that is the area that I have experience in. The rest is in the province of people with more experience than I.
See, lots and lots of questions and this is only the tip of the iceberg.
Doing it by car or How We Did It
I'm assuming that you're going to be using a four wheel drive vehicle of some sort towing a camper trailer of whatever variety.
At this stage you're faced with two big unknowns. What are you going to tow and what are you going to tow it with. If you have a bit of a think about it you really need to know the answer of one before you can know the answer to the other.
Now is the time to put a lot of thought in to your expectations for the vehicle and the camper. Are you going to stick to the bitumen or are you going to try the likes of the Tanami and Gibb River Roads or the Birdsville and Oodnadatta Tracks ?
We decided on the latter which meant that we needed to be looking at campers that can take a lot of punishment. A strongly built and durable camper is going to weigh a bit so we needed a vehicle that would be able to tow it. This is where past experience came to our aid. I've had a lot of good times with Land Rovers and over the five that I've previously owned I've never, ever, been left stranded. They've always managed to get me home so we hunted down a manual Discovery 2 Td5 diesel. Whilst towing a Discovery 2 has a good Gross Combination Weight, a maximum towing weight of 3,500kg and will support a ball weight of 250kg.
After much searching and many test drives we found a good one that was cheap. It had a couple of issues that needed seeing to which still made it a cheap car.
Now came the search for a camper.
So how did we decide on a forward fold camper
Well, first of all we decided that we wanted to travel on roads that are questionable to say the least. The Birdsville, Oodnadatta and Strzelecki Tracks and the Great Central, Gibb River and Tanami roads for a start. That meant a small-ish caravan that needed to be solid in the extreme. There are such caravans on the market but the price – oh dear. We are on limited and fixed incomes and to spend the amounts being asked would just about clean us out and leave us living in poverty. Even second hand would be beyond us. Scratch that idea.
So we started looking at camper trailers. We looked at a couple of soft floor campers and whilst they satisified our requirements concerning size and weight they had a lot of constraints that we weren't willing to live with. Time and effort to get set up and to get packed up, the issue of dust and mud being tracked inside, etc. We looked at a lot of youtube videos of setup and packup and decided that a hard floor was the way to go.
We thought that a cheap second hand camper of either rear of forward fold design would be a good starting point so the scouring of the classifieds started. Eventually we stumbled across a very affordable Indigo rear fold camper and went to have a look at it. The seller had maintained it very well and had really looked after it so money changed hands and we took it home.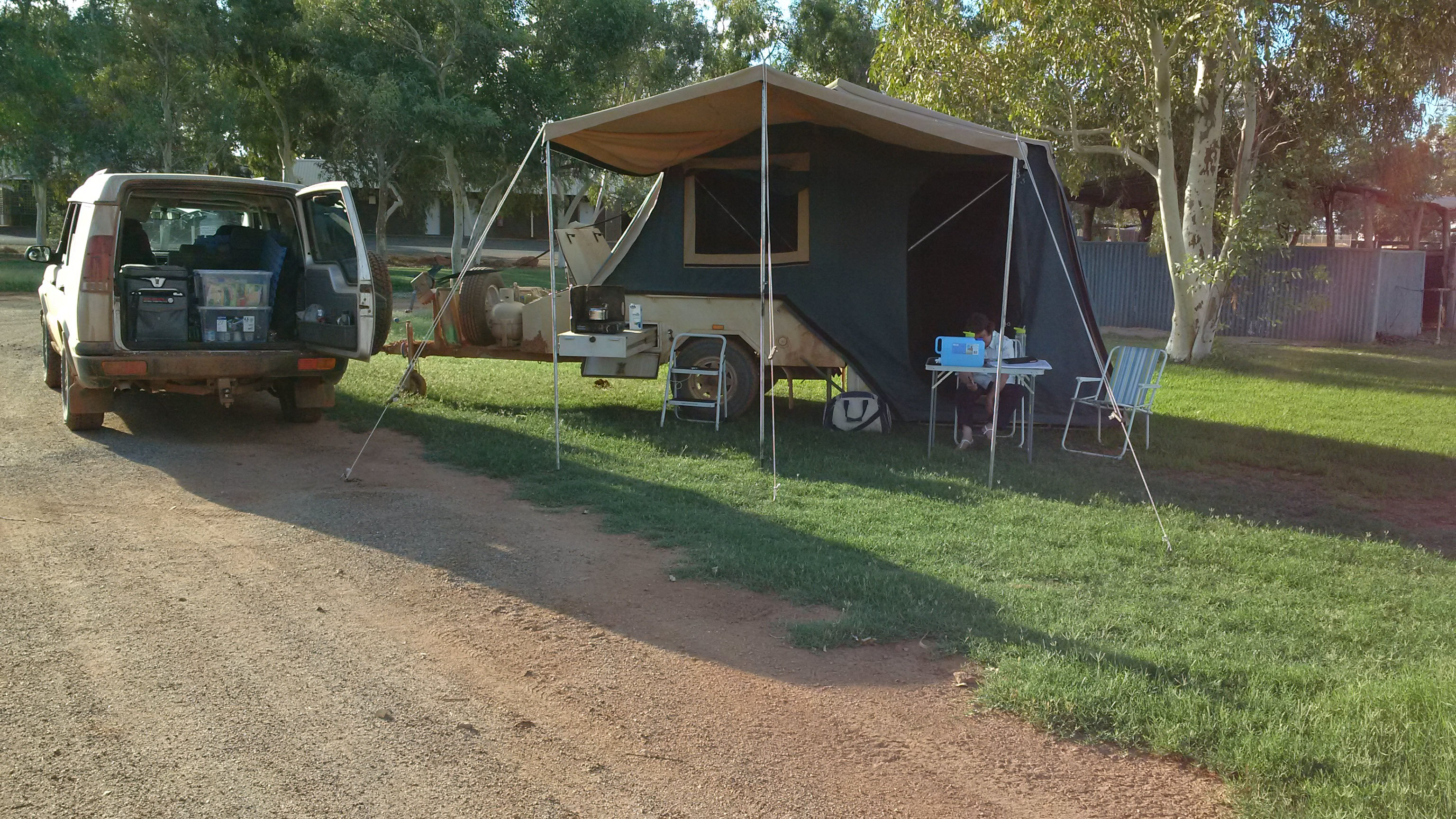 It was light, easy to tow, waterproof and easy to set up. The drawbacks were many including that there was no storage for the fridge, no real kitchen, no pantry storage space, etc. The lack of storage meant that were right on the edge of the car's GVM so we had to be really careful with what we packed. We had some great trips with that camper until the chassis broke. It gave way while we were getting set up at Bourke and thankfully we were able to get it welded up enough to get us home on bitumen roads. Although the welding was a solid job we couldn't trust it to get us to and from where we wanted to go so it had to go.
The search then started for our "forever" camper.
We decided what our budget was and started looking at all sorts of hard floor campers. We found a lot in our price range too. The second hand, name brand, campers all appeared to have had a hard time and had defects that would need attending to before we'd be happy with it or they were cheaply built and the asking price was unrealistic for what they were. We looked at a few name brand new campers too and the price was above our budget or they were cheaply built. During the search we looked at a few forward fold campers and we liked the storage space and the interior lounge area with a built in table and seating so we started to concentrate on forward fold campers.
Once again the second hand market had the same issues as the rear fold second hand market so we started looking at the new market. After much looking and rejecting, usually due to cheap and nasty build and materials we stumbled across Balance Trailers.
A lot of the new camper sellers seemed to need to supervise us while we looking – crawling around underneath, poking around the inside, measuring storage spaces, etc.
The guys at Balance Trailers were different. They gave us a sheet of paper with all the specs – weights, dimensions, etc. and said that they'd leave us to it to have a good look. The fit and finish was excellent, the welding was neat and clean with no evidence of angle grinder marks and it was built like a brick outhouse. We had a load of questions which were all answered without any if's, but's or maybe's. We asked about the setup and pack up and the demonstrated that for us and the asked us to pack it up and the set it up while they watched. They supplied a certificate of electrical safety as well as a gas compliance certificate. They also supplied recent weigh bridge certificates for tare and kerb weights – axle and tow ball weights separate.
At no stage were we asked about money or pick up dates. It was a total, no pressure sale. In the light of subsequent events these guys also stand behind their product too.
So we went ahead and got it – after a bit of price haggling of course. It was within our budget and has proven to be exactly what we were after.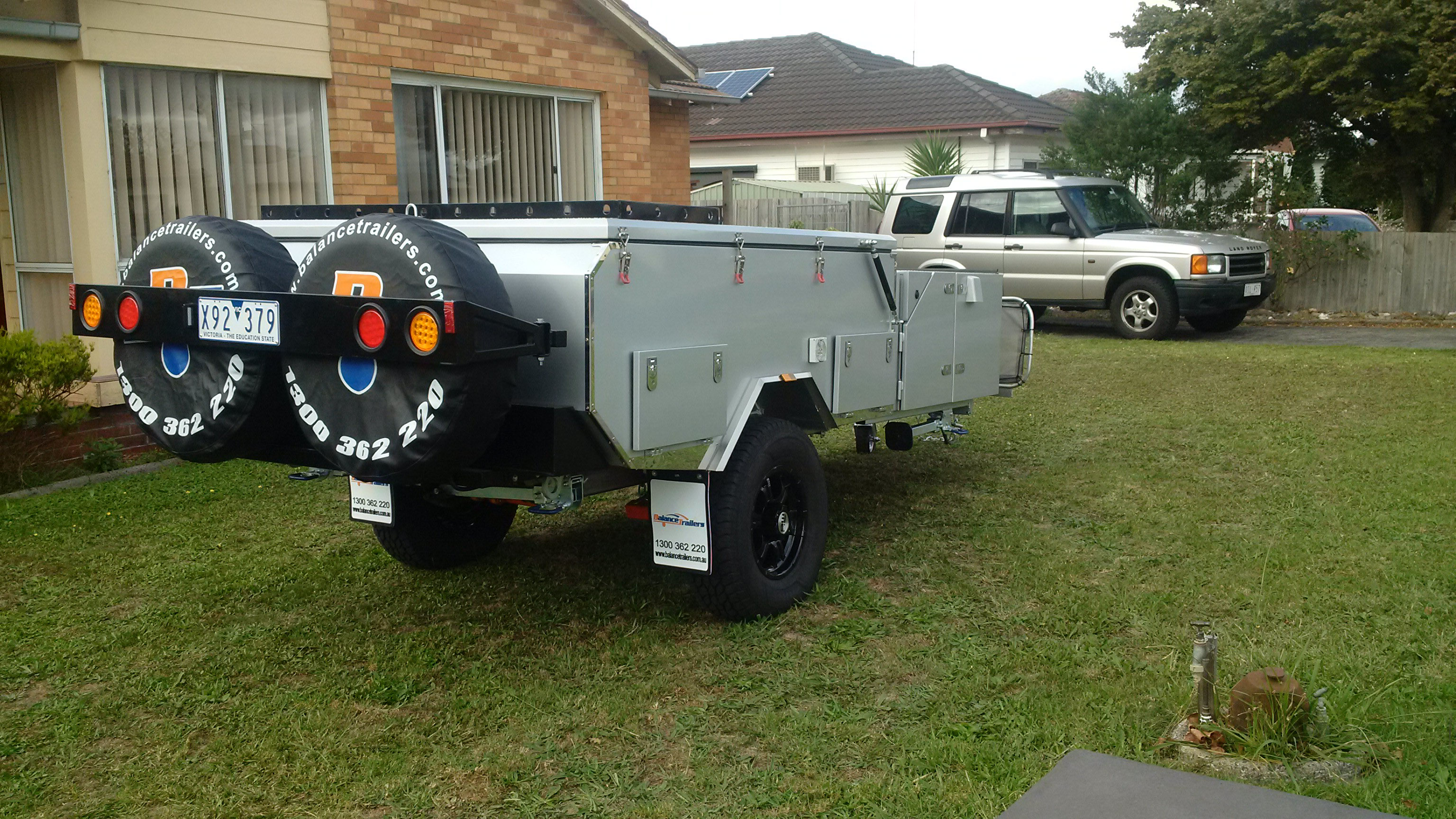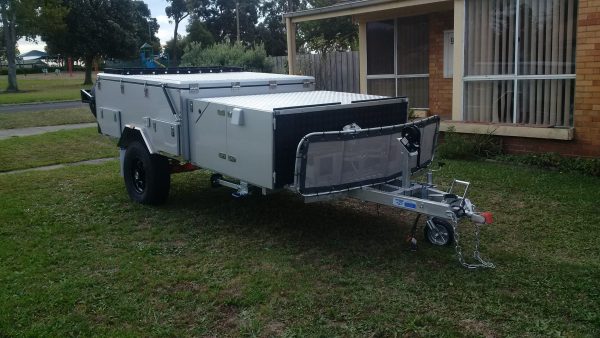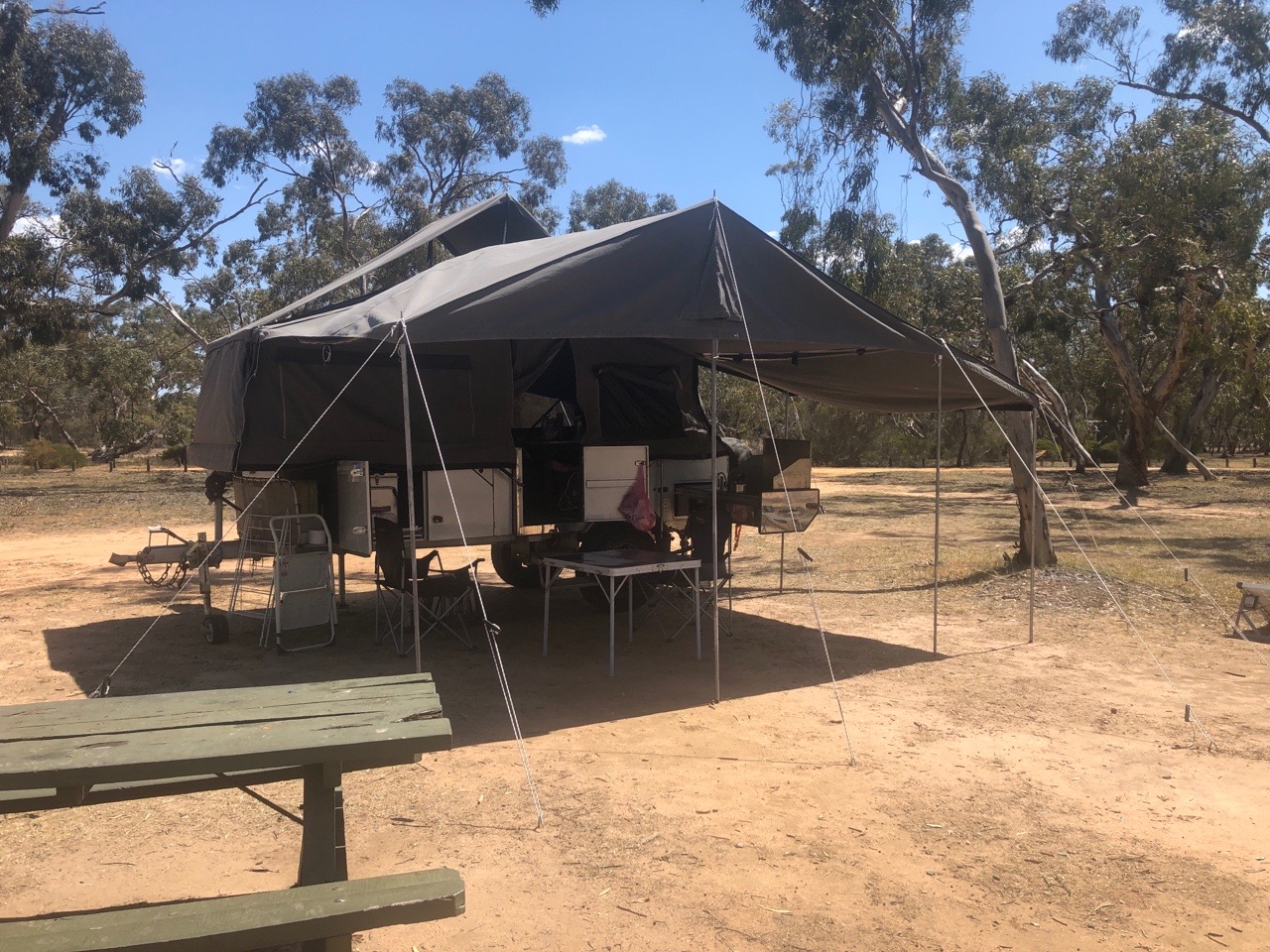 It's a quick and easy set up – ten minutes from pulling up to having the kettle on. About another twenty minutes to put the annex up – we don't use the walls though.
There you go. That's how we ended up owning a forward fold camper.