To Kiata and Belair
We decided that we'd start by heading to Kiata  for a couple of nights. We've been there before and really like the place. Besides it was a good shake down. Because I'm really clever I managed to forget to pack the length of duct that we use to pipe the hot air from our cheap All In One Chinese Diesel Heater. Like I said – I'm really, really clever. More on this later.
After a couple of days at Kiata we made our way to Belair in SA.  This entailed crossing the border which without COVID-19 would be no big deal. Before we left Moe we completed the border permits and were approved. When we got to the border we had to go through the whole palava again with the SA Police. After about an hour we were off to Tailem Bend to get our COVID-19 test done – another hour down the gurgler. Eventually we got to Belair and set up camp for a couple of nights. The next day Gill from Parks SA dropped by and gave us our uniforms and a knapsack of "stuff" that we'd need for our two Campground Hosting assigments. Firstly at the Trig Camp Ground in the Deep Creek conservation reserve.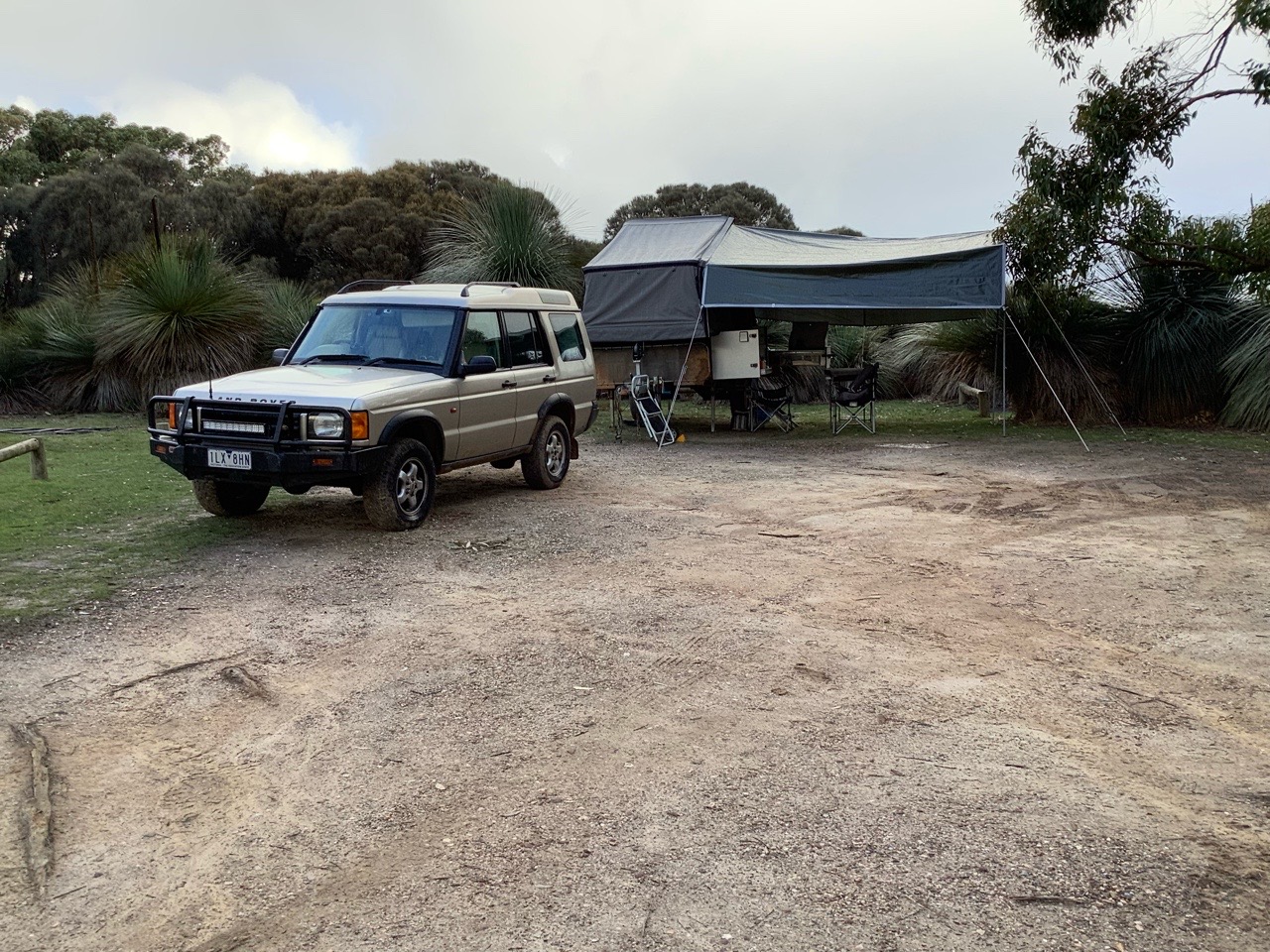 And then to Stenhouse Bay Campground in Dhilba Guuranda – Innes National Park.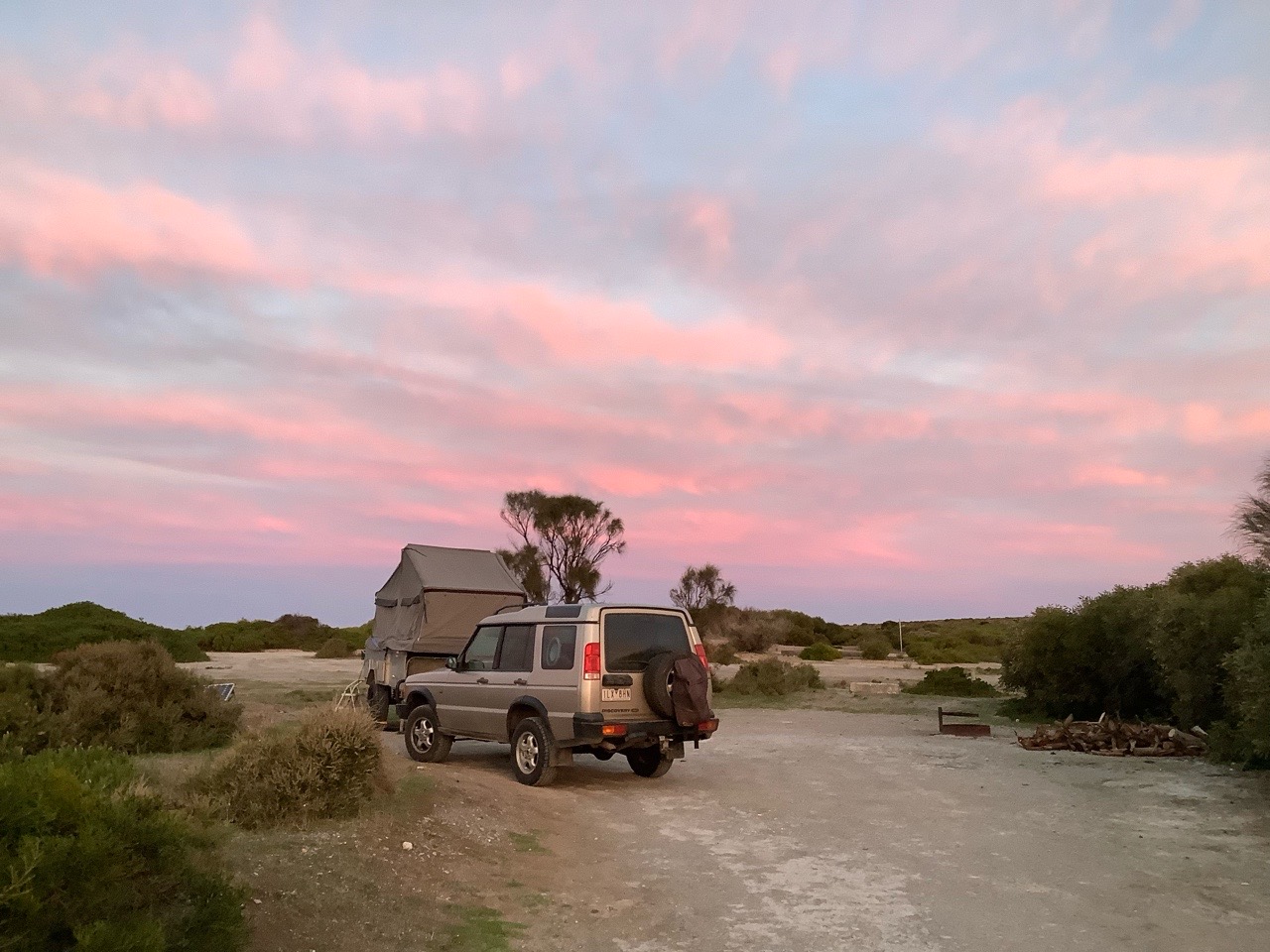 And so on to Trig Campground
When we woke up at Belair on the day we were leaving it was belting rain. Both Jenny and I hate packing up in the wet with a vengeance. And it was wet. It took longer than usual to get packed because of the wet weather but we were on our way soon enough.
When we got to Trig and started to put the camper up we saw just how much water we had packed. The cushions inside the camper were soaked in one corner and another corner was merely drenched. Oh well, such is life. We got ourselves set up as per the photo above and settled in for the next week.
The next day Coral, one of the National Park Rangers came to see us and lead us through the induction. Our duties seemed pretty simple. We were to clean the long drop toilets every couple of days which wasn't hard. A wipe down, replenish the toilet paper, sweep them out and pick up any rubbish laying around.  We were to check each of the twenty five camp sites after a group had left to make sure that campfires were out and to collect any rubbish. We were also to interact with people and make sure that they had payed the required fees and were obeying National Park Rules, etc. Our biggest duty though, was to be on hand for inquiries and to hand out pamphlets and maps and other material.
Our week flew by and we had a thoroughly enjoyable time. It was a bit of a chore to have to drive about forty kilometres to do a bit of shopping and it was a decent drive to get a shower but those inconveniences paled into insignificance.
While were at Trig the weather wasn't the best but it was OK. We had one windy night which brought the annex down of course. Minor inconvenience though. Our time at Trig was really, really cold so on our first shopping trip we got ourselves a butane heater which did the job OK-ish. Butane cans are an expensive option though at $7.50 for a three pack which would only last a couple of nights. A solution to the missing duct problem became urgent.
Come the morning to leave and guess what ? Yep. It was belting down with rain. Here we go again !
Onwards to Stenhouse Bay Campground
After Trig Campground at Deep Creek Conservation Park we were off to Stenhouse Bay Campground at Dhilba Guuranda – Innes National Park on the York Peninsular of South Australia.
Of course when we came to put the camper there was the, by now, the usual load of water from the wet pack up. Dammit. The upside is that the site that we've been allocated is a ripper as illustrated by the photo above. There is one drawback though. The ground is Limestone so we are unable to hammer tent pigs in which means we can't put our tarp annex up. That leads to having to cook, etc. without shelter apart from the inside of the camper. Such is life in the fast lane. Over the next few days it could get interesting as the weather forecast isn't good. Rain – 3-5mm total falls with a probability of 90%. Like I said, life in the fast lane and all that. Still and all, we're camping so we're happy.
We went through the induction which was pretty much the same as the one at Trig Campground so that was just a "tick the box" exercise. Our duties are the same as Trig Campground so not at all arduous.
On our second night here we were treated to a fantastic sunset. Bonus !!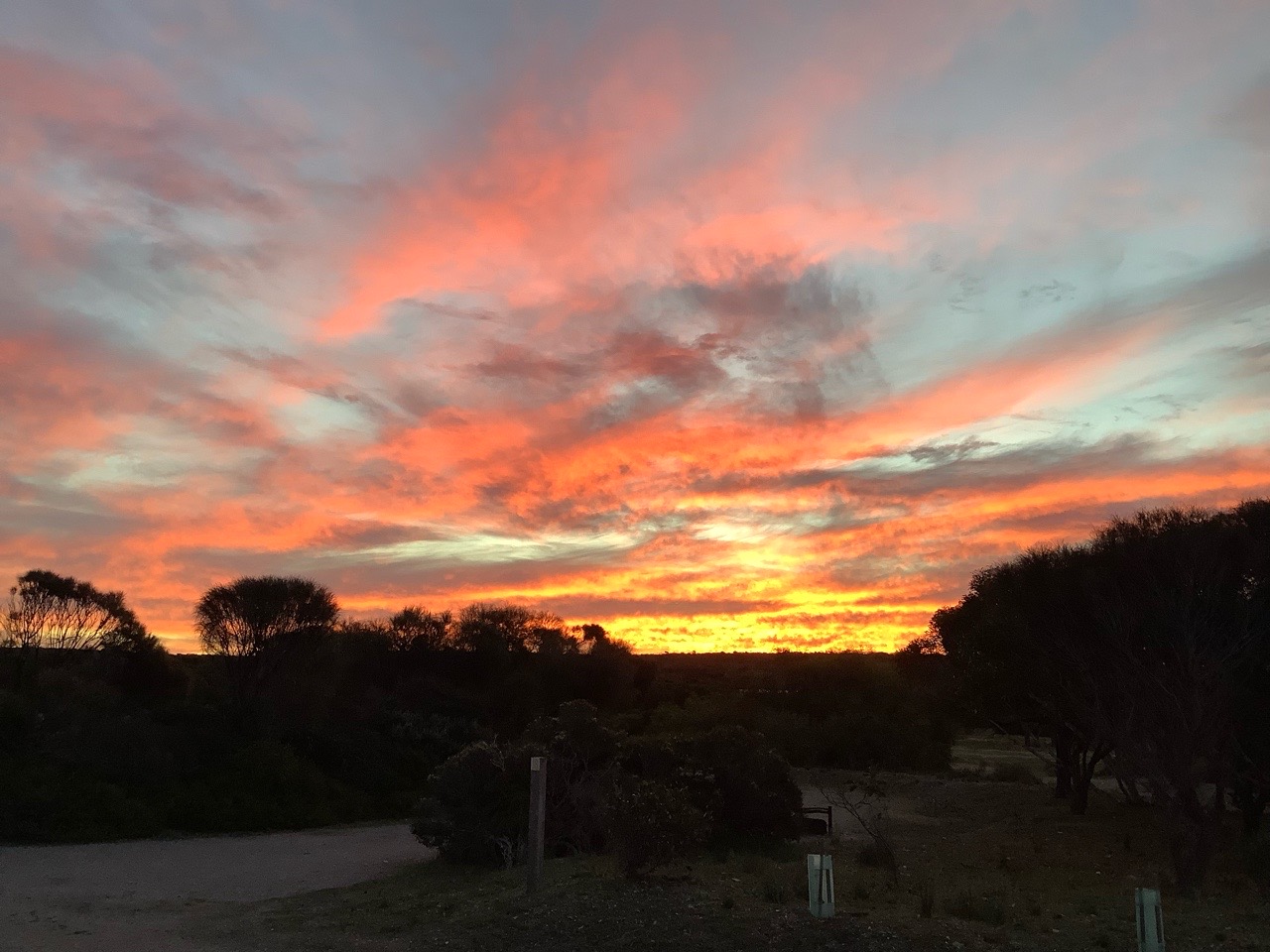 On the day after the sun set we went into Warooka in an attempt to get more butane cans. We couldn't afford the cans on sale in Marion Bay at $7.95 EACH ! In Warooka there's a hardware store and a ducted heating and aircon specialist who happened to have a few old stock cans which he gave use. He also rummaged around and found some old ag. drainage pipe. With a roll of Duct Tape (100mph tape, etc) I managed to fashion a duct. Tonight we will have diesel heat. HOORAY !
It looks a bit Heath Robinson but a test run showed that it works. Hooray.
The heater has worked like a trojan for the last few days. Just what we wanted.
The weather for the last few days has been abysmal. Cold with the wind chill factor making it feel like between zero and three degrees Celsius. The wind, rain and hail has given the cafmper a good workoput. No leaks, torn canvas or bent poles. Gotta be happy with that.
Anyway that's the end of our Campground Hosting.
Then end of our Campground Hosting
Here we are on the last day of our campground hosting. Over the last few days the weather has been worse than unpleasant. It's been windy, rainy and damn cold at Stenhouse Bay. The weather at Deep Creek (Trig Campground) was only cold and wet. Tomorrow we start the trek to Darwin where we hope for much more pleasant weather.
Would we do it again ? In a heartbeat but not in the middle of winter though.
And finally
Without the ladies and gents at Parks South Australia this wouldn't have been possible. They eased us into it gently and ensured that we had a lot of time  to enjoy the parks as well as perform our duties. Everything, and more, that we needed was supplied and ensured that we had a great time.
Special shout outs to Coral, Simon, Aaron, Chloe, Mark and especially Carly. These rangers and staff made our Campground Hosting placements really enjoyable. After two short placements I reckon the Parks SA Volunteer programme is a cracker.