From SA to NT
With our Campground Hostin stints over it was time to move on towards the NT.
We went from cold, wet and windy Stenhouse Bay to Port Pirie where there was a lack of wind and only very little rain. It was still cold though. At Port Pirie we had a powered site so there was time to recharge our aus and camper batteries, fill up the water tank and do some much needed shoopping at a decent supermarket. We also had a chance to fuel up at a reasonable price as well as replace one of gas bottles – it was empty. We also had a much needed chance to get all of the clothes and bedding washing done – we had been effectively bush camping for the previous two weeks.
Here's a map of the trip from Stenhouse Bay to Port Pirie.
Port Pirie to Woomera
From Port Pirie we went to one of our favourite places – Woomera.
The drive there was uneventful but our projected two nights at the Woomera Caravan Park turned into an eight day extravaganza. After our first night there we were getting set to leave the next day when COVID-19 struck. The poers that be in South Australia decided that a state wide lockdown was in order which meant that we were unable to travel. At all. Damn!
Let me tell you that there is very little to do in the Woomera Caaravan park. We were able to do some very expensive shopping in the small store and we were able to make a trip to Roxby Downs for me to replenish my medication supplies. But that was all.
As you can see, not a lot at Woomera Caravan Park.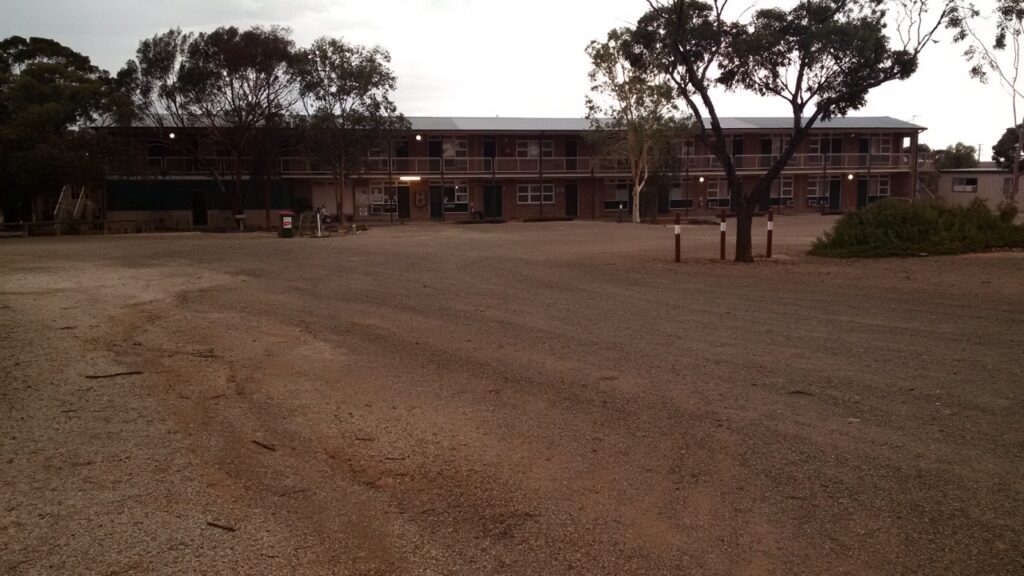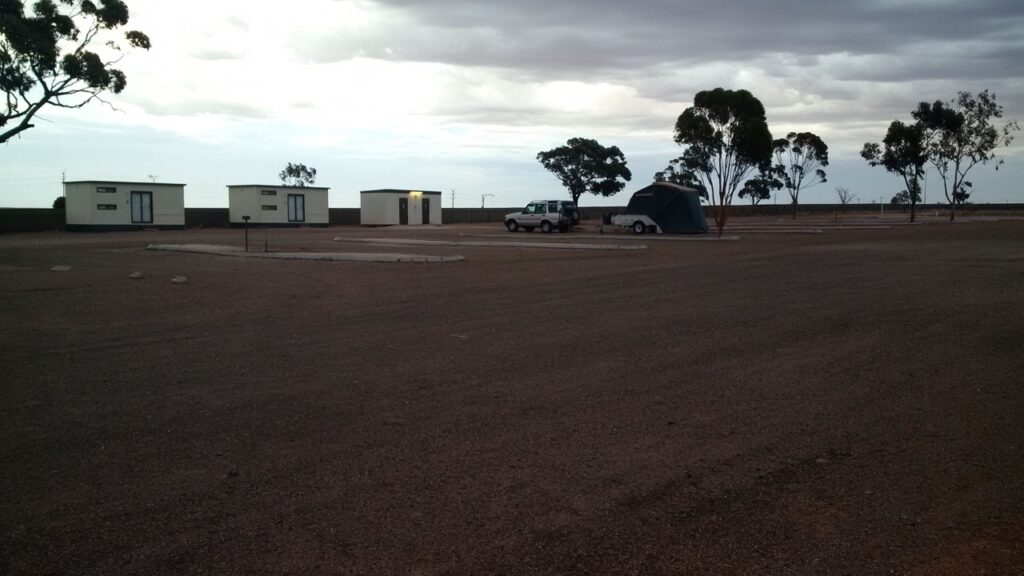 Of course while we were there the weather turned nasty. Not a lot of rain, very little in fact, but there was loads of wind. Shane, the park manager, suggested that e move our camper to a more sheltered spot which we willingly did of course.
After what seemed to be a lot longer than a week the lockdown ended and we could get on our way.
Woomera to Coober Pedy
A thoroughly boring drive. Just hours of droning along the highway.
At this stage it's worth mentioning that on a previous trip due to long periods sitting in the car my wife developed a blood clot in her lower leg. Deep Vein Thrombosis or DVT. We learned a lesson from that and we now drink a lot more water and take regular "walkabout" breaks where we get out of the car and wander around for a bit before continuing on with our journey. Once bitten, twice shy and all that.
When we got to the Caravan Park at Coober Pedy we got the camper set up and noticed that one of its tyres had scrubbed a bit so a bit of wheel changing was the order of the day. The scrubbed tyre would come back to bit us a later time, of course.
And on to Marla
From Coober Pedy to Marla is another long and boring drive. We have done the drive from Woomera to Marla a few times in the past so the old saying of "nothing to see here" applies.
The only real curiousity is that at the Marla Caravan Park cars, campers, caravans, etc. are not permitted to park on the grass – you park on the gravel and have the table, chairs and stuff set up on the grass.
Boy was this place crowded. It was a good thing that we booked. This is where we started to notice the sheer number of people travelling with campers, caravans, motorhomes, four wheel drives with rooftop tents and just loaded up utes. It seemed like the whole country was on the move so from here on we were making sure that we booked every where we were staying.
Anyway here's the inevitable map from Port Pirie to Marla.
And into the Northern Territory
While we were at Marla we had to complete the border forms, one each, so that we could cross the border into the NT. This was a pain as we had to detail everywhere we had stayed for the previous fourteen days. It took us a couple of hours to complete the forms such was the detail required.
Anyway the forms were done so we treated ourselves to a couple of drinks and a meal at the roadhouse that's attached to the caravan park. There's also a sort of supermarket there which was very expensive – a box of tissues that we can buy at our local Moe supermarket for about $2.00 was $11.50. We got a couple of litres of long life milk but that was it.
Anyway, the meal and drinks were good and we also got ourselves a couple of bottles of wine, went and had a shower and got the stuff stored properly in the camper – off to the NT the next day.